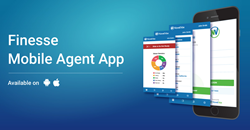 BETHESDA, Md. (PRWEB) March 23, 2020
Contact centers are expected to deliver quality customer experience all day, but there are tough times that impact the performance and business ROI severely. Such situations require businesses to have a continuity plan offering agents to operate from a home office. And the delay in this transit can impact the reputation of the company. So, the NovelVox has launched its Finesse Unified Mobile Agent (FUMA) app that not only ensures home office functionality but empowers agents to handle calls with the same efficiency as from on-floor solutions.
The app can be implemented within 24 hours allowing agents to receive calls via mobile, tablet or desktop without compromising on the call quality. The only requirement is of simple internet connection instead of a VPN. In addition to integrated call controls, the app features a phonebook for team coordination operating across the globe and team stats to monitor real-time performance.
NovelVox CEO, Amit Gandhi states, "We care for our customers, their employees and their customers too. To keep everyone safe and free businesses from limiting agents to operate from just office, and battle customer service complexity in a tough time, we offer Cisco Finesse Unified Mobile Agent App or access from a desktop with no need for VPN access. The high anxiety in the atmosphere shouts for a quick solution, so we are currently supporting 24 hours of implementation time. NovelVox is committed to serve during tough situations or technology limitations. we are working day and night to reduce the impact on the contact center as much as possible."
Mobile App by Novelvox is capable of supporting any team size 24x7 to deliver the best experience possible in these crises. The company also offers agent desktop and supervisor desktop for full-throttle support to contact centers across the globe. Now businesses can experience and provide seamless, secured, and quick help.
About NovelVox
NovelVox is a global software company that has been developing flexible and optimized Contact Center Agent Desktops and Wallboards for Cisco, Avaya, Genesys, and Five9 for over 11 years. NovelVox has an extensive library of Cisco Finesse integrations with solutions for more than 70 applications. The Novelvox Cisco Finesse Gadget Designer is the world's only drag and drop Finesse gadget designer, empowering companies to create their perfect agent environments as and when required. With over 150 global deployments across verticals, including banking, telecoms, healthcare, government, education, and retail, NovelVox has the experience to create customized solutions for any industry.