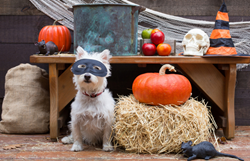 Boost the Halloween party fun by adding a photo booth to capture the fun memories and crazy costumes!
Seattle, WA (PRWEB) October 19, 2014
"Halloween parties are fantastic fun for young and old attendees alike," says Enchanted Moments Photobooth in their recently released article, "5 Halloween Party Ideas to Spice Up Your Event."
"Whether you're having an all-evening event or hosting a post-trick-or-treating party," they continue, "These Halloween party ideas will help you brainstorm for your halloween-themed event."
In their article, Enchanted Moments Photobooth explains five creative ideas for party hosts looking to make their event unique and enjoyable for guests of all ages.
Their first recommendation is to design your event around a popular halloween costume theme. The article lists several popular costume trends for 2014, which can also serve as themes for a halloween party or event.
According to the article, "Traditional western, spooky, or Hollywood themes are always exciting, while movie themes such as Star Wars or Harry Potter open up their own array of options."
Other ideas listed in the article include various halloween party games, table decorations, and halloween-themed food and snack options.
The article encourages party hosts to capture their event with the use of a photobooth. "The kids, teenagers, and even adults are all decked out in fun and fanciful costumes and ready to have a ball," they say. "Why not boost the fun with a photo booth to capture the fun memories and crazy costumes?"
The article goes onto explain the photo booth packages that Enchanted Moments Photobooth offers, including an onsite assistant, a 30-day web gallery, a copy of all of the photos take at the event for the host, and a myriad of props that the guests can use in their snapshots!
For more information about Enchanted Moments Photobooth packages, visit their website: http://enchantedmomentsphotobooth.com/packages
About Enchanted Moments Photo Booth:
Enchanted Moments Photo Booth is a premier photo booth entertainment provider from Seattle, Washington. They provide booths that are designed with the latest in ultra high-resolution digital technology with professional grade cameras and printers.