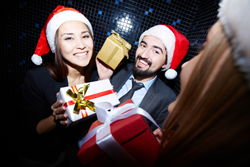 A photobooth is a perfect way to capture the moments of Christmas magic and save them and share them with friends and family.
Everett, WA (PRWEB) December 05, 2014
Enchanted Moments Photobooth wants to be sure everyone enjoys the holiday season. In their recently released article they give hosts a peek at 7 necessary steps involved in throwing a terrific Christmas party.
The article says that, "As the host, your ultimate goal is to bring friends or family together so you can enjoy each others company and relax during the holiday season."
The first tip offered in the article is for the host to consider their decorations.
"No Christmas party is complete without its fair share of candles, lights, and candy canes," the article says. They also offer up additional ideas on how to fix up the home for the Christmas celebration.
In addition to drinks, the article comments about the snack selection hosts can have available at their parties. The article says, "This is yet another opportunity for your creativity to run wild. When preparing fun and exciting snacks, consider how to keep your foods fairly easy to eat and enjoy."
Enchanted Moments Photobooth also encourages the use of games to break the awkward tension and make a party fun. The article states that, "No Christmas party is quite as memorable as those when everyone can jump in and participate in a fun group activity." The article offers several creative game ideas hosts can use to put energy into their Christmas event.
In addition to the fun, Enchanted Moments Photobooth gives hosts a way to record the event by use of one of their customizable photo booths. The article says "With themed props and unlimited pictures, you and your friends get to capture the fun memories in photos they can treasure forever."
For more information about the personalize photo booths provided by Enchanted Moments Photobooth, visit their website at http://www.enchantedmomentsphotobooth.com.
About Enchanted Moments Photo Booth:
Enchanted Moments Photo Booth is a premier photo booth entertainment provider from Seattle, Washington. They provide booths that are designed with the latest in ultra high-resolution digital technology with professional grade cameras and printers.