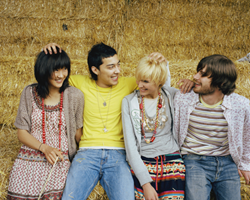 Western themes are the trend of the season when it comes to summer parties!
(PRWEB) July 21, 2014
Enchanted Moments Photobooth's published article encourages party-planners to jump on the cowboy party wagon when it comes to holding summer bashes.
"Cowboy or Western-themed parties are experiencing a comeback," says Enchanted Moments Photobooth, "as they are a great way to encourage family-friendly fun while accommodating a large group of people."
Family reunions and other large corporate or charity events can create a greater level of involvement and fun by incorporating themes into their party planning, the article advises.
One of the most popular is the Western theme, as it provides a wide range of games, easy-to-make foods, and tons of Western themed activities for guests to enjoy.
To book Enchanted Moments Photobooth services, go to their website: http://enchantedmomentsphotobooth.com/.
"The best setting for a western party is outdoors," the article says, "An open field, a backyard, or a barn are great options for some rousing fun. A parking lot will do as well and you can turn the western theme into a redneck tailgate party. The options are open, but just make sure everyone wears their favorite jeans and cowboy hats and you're good to go!"
The article reminds partiers, however, that every good party needs lots of photos taken to capture the moments. A photo booth is a fantastic way to save those priceless party memories for years to come. To learn more about how to host a party with a photo booth, contact Enchanted Moments Photobooth at http://www.enchantedmomentsphotobooth.com.
About Enchanted Moments Photo Booth:
Enchanted Moments Photo Booth is a premier photo booth entertainment provider from Seattle, Washington. They provide booths that are designed with the latest in ultra high-resolution digital technology with professional grade cameras and printers. To learn more about Enchanted Moments Photo Booth, visit their website or call 425-223-7188.