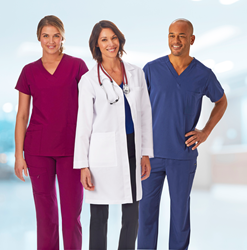 "As health systems continue to mitigate the challenges faced as a result of the pandemic, Vizient is excited that through this new agreement with Encompass, our members will have additional access to healthcare apparel." – Kim Wenger, Vizient Senior Director
MCDONOUGH, Ga. (PRWEB) September 16, 2021
Encompass Group, LLC, one of the world's leading manufacturers and marketers of reusable textiles, professional apparel, and disposable and single use medical products is proud to announce that it has been awarded a contract with Vizient® to supply Healthcare Apparel Uniforms to Vizient members. Effective August 15, 2021, Vizient members can order Encompass Healthcare Apparel directly from Encompass or through their authorized distributor, accessing Contract # MS 9910.
"As health systems continue to mitigate the challenges faced as a result of the pandemic, Vizient is excited that through this new agreement with Encompass, our members will have additional access to healthcare apparel," said Kim Wenger, Vizient Senior Director. Deanna Leonard, Encompass Vice President and General Manager – Retail Apparel, added, "Encompass is happy to partner with Vizient in ensuring their members have access to safe and comfortable professional healthcare apparel. With over 100 years of experience, our brands have been at the forefront of healthcare apparel and we are honored to be a contracted supplier."
Vizient members will have access to the full line of safe and comfortable Encompass Healthcare Apparel including: Jockey® and Fundamentals® scrubs and Meta® Lab wear. Encompass Healthcare Apparel is available in a variety of styles and colors. Customization is available too including facility branding, department name and even individual provider names. As an added value for Vizient members Encompass can provide guidance on a Group One uniform program that color codes staff according to department and/or function. Staff identity programs have been shown to provide tremendous benefits, including: branding opportunities for the healthcare facility, enhanced security, enhanced patient experience and improved employee satisfaction.
Encompass offers flexible ordering opportunities for the Vizient members, including: bulk orders to healthcare facilities, bag and tagged options labeled for the individual provider sent to the facility and a unique ordering portal. The portal can be branded by the healthcare facility and allows functionality including individual provider ordering, credit card purchase and payroll deduct programs. The portal also offers detailed reporting options to show staff compliance and historic utilization of apparel.
To discuss the new Vizient Healthcare Apparel Uniforms Contract contact us at (800) 284-4540 or http://www.encompassgroup.com
About Encompass Group
Encompass believes that every patient, resident, caregiver, and family member should feel safe and comfortable in today's healthcare environments. The way Encompass enhances the healthcare experience is by developing innovative products that are reliably delivered and cost effective for all providers. The markets we serve include Acute Care, Long-Term Care/Senior Care, Retail Health Care Apparel, Hospitality, and Government Operations.
For more information, please visit http://www.encompassgroup.com, email info@encompassgroup.net, or call (800) 284-4540.
About Vizient®, Inc.
Vizient, Inc. provides solutions and services that improve the delivery of high-value care by aligning cost, quality and market performance for more than 50% of the nation's acute care providers, which includes 97% of the nation's academic medical centers, and more than 20% of ambulatory care providers. Vizient provides expertise, analytics and advisory services, as well as a contract portfolio that represents more than $110 billion in annual purchasing volume, to improve patient outcomes and lower costs. In 2021, Vizient acquired Intalere, which expanded its footprint with ambulatory and rural acute care providers. Vizient has earned a World's Most Ethical Company designation from the Ethisphere Institute every year since its inception. Headquartered in Irving, Texas, Vizient has offices throughout the United States.
Learn more at http://www.vizientinc.com.
# # #