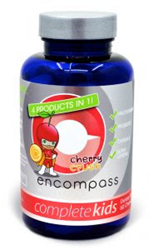 The daily vitamin you choose to give your kids is extremely important.
SHIPSHEWANA, Ind. (PRWEB) November 13, 2019
Encompass Nutrients is proud to announce the release of a new kid-friendly super-vitamin called Complete Kids Cherry Crush. This super-vitamin includes multivitamins, omega-3, super greens, and probiotics.
Over 1/3 of kids in America take a daily vitamin. The daily vitamin you choose to give your kids is extremely important.
You want to give them something that's actually good for them and benefits their overall health and development. Dr. Terrance Waggoner recommends that children should be getting not only a multivitamin to fill in the gaps of their diet, but should also be getting minerals, omega-3 fatty acids to aid in brain development, probiotics to aid with digestion, and super greens to help build the immune system. But who wants to buy 4 different products? That is exactly why we have combined all four of those product categories into one daily chewable for kids. We call it Complete Kids!
We're excited to announce that Complete Kids now comes in a brand new flavor. We call it Cherry Crush! It's cherry with a bit of citrus that complement one another in providing great flavor kids will like with a bit of tartness to help mask the flavor of all that nutrition we pack into each tablet.
All first-time customers get $10 off their opening order and for a limited time, try our brand new Complete Kids Cherry Crush at 10% off the retail price. Use code CHERRYCRUSH10 during checkout! Every bottle of Complete Kids comes with a Captain Crush sticker!
To learn more about this new product, please visit https://encompassnutrients.com.