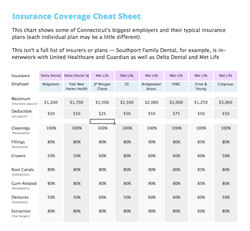 Unused dental benefits don't roll over to the next year, so now is the recommended time to take advantage of coverage.
Southport, CT (PRWEB) December 22, 2014
The year is coming to an end, and many families across the country with dental insurance have unused benefits remaining. Unused dental benefits don't roll over to the next year, so now is the recommended time to take advantage of coverage — any appointments scheduled next year would also first have to meet the insurance provider's deductible before any benefits would be paid out.
Fairfield, CT dentist Dr. Salvatore Pizzino says, "It is not uncommon to put off dental appointments until the last minute, but now is the time for families to schedule an appointment and make the most of dental insurance. "
Confused about dental coverage? Here are some explanations of common insurance terms:
Maximum — this is the highest amount of money that insurance will pay out each year. If it is not used up by the end of the year, it does not apply to the next year — any unused money disappears.
Deductible — this is the amount of money that a patient needs to pay per year before their insurance starts paying. Most plans don't require any deductible to be paid for routine preventative care like teeth cleanings.
In-network — this means that the insurance provider has an existing arrangement with the dentist and covers their normal percentage of services. (Southport Family Dental, for example, is in-network with Guardian, United Healthcare, Delta Dental and Met Life).
Out Of Network — this means that insurance may cover less of the dentist's services than they normally would.
HMO Plans — these require staying in-network at all times, and will not cover any costs for dentists that are out of the insurance's network.
PPO Plans — these let the patient choose between in-network and out of network dentists, but may cover less when seeking treatment with dentists that are out of network.
Want an example of how all this works? The attached chart shows some of Connecticut's biggest employers and their typical insurance plans.
Clean for free and avoid paying later! Notice anything interesting about these common insurance plans? They all have a whopping 100% coverage for teeth cleanings — this means that they pay for the entire process. Even better, most insurances don't even require of any deductible for preventative processes like cleanings.
A dentist's chair might not be anyone's favorite way to spend an afternoon, but a couple quick afternoons of insurance-covered teeth cleaning each year can end up saving families a sizable amount of money, time, and potential discomfort.