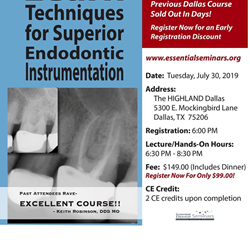 DALLAS (PRWEB) February 05, 2019
Essential Dental Seminars set to host one Endodontic course in Dallas, Texas. Endodontic success for the general
practice will be a lecture and hands-on seminar designed for general dentists who are interested in advancing their practice by incorporating the latest techniques available in endodontics.
Learn to tackle the tougher cases without fear of separation while reducing procedure time and cost. Dr.
Stephen Christy who will be teaching the attendees is a proud member of the St. Louis Dental Society, the
Missouri Dental Association and the American Dental Association. Dr. Christy has lectured nationally helping general dentists tackle tougher endodontic cases without fear.
To register for this course or any other upcoming dental education course visit essentialseminars.org