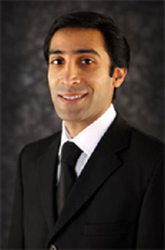 Los Angeles, CA (PRWEB) May 20, 2014
Los Angeles endodontist, Dr. Payman Kakoli, now offers consultations for endodontic surgery. The root canal procedure is often recommended for teeth that are infected or severely decayed. It is designed to remove the damaged or infected tissues but keep the tooth intact. However, as with any procedure, root canal treatments can fail. Patients may notice localized pain, discomfort or sensitivity around the affected tooth months or even years after the initial root canal.
About Dr. Payman Kakoli, Root Canal Doctor Los Angeles
Dr. Payman Kakoli is a top Los Angeles root canal expert. He attended the University of Maryland, from which he earned his degree in biology. He continued his studies at the University of Maryland School of Dentistry and achieved his Doctorate of Dental Surgery. After completing his postgraduate work, Dr. Kakoli finished his residency in endodontics. He was recognized for his scholarship with various awards and honors, including the Harry E. Latcham Memorial Medal for Excellence in Complete Oral Restoration and membership in the Omicron Kappa Upsilon Honorary Dental Society. Today, Dr. Kakoli is a member of the California Dental Association, the American Association of Endodontics and the American Dental Association and has been published by the "Journal of Endodontics."
Although root canal treatments are extremely effective in preserving teeth and eliminating infection, the problem can recur if the tooth heals improperly. In some cases, the tooth may have attenuating canals that were not treated at the time of the initial procedure. In others, the inner chambers of the tooth may have been left vulnerable by a delay between the treatment and the restoration, or the placement of the crown or permanent filling. Retreatment may also be necessary if the restoration of the treated tooth breaks down, cracks or fails, which allows saliva to contaminate the root canals and trigger infection.
Los Angeles emergency root canal expert, Payman Kakoli, offers evaluations that can identify the cause of the problem and will make recommendations that are based on the specific needs of every patient. Patients who are candidates for retreatment may need several appointments to perform the procedure and then complete the restoration. The root canal cost can vary based on the specific needs of each patient.