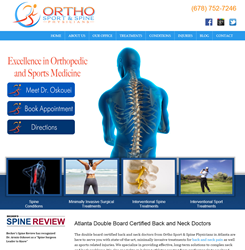 This technique is only the latest component of an overall strategy of using the most advanced technology, equipment and techniques to improve patient care and outcomes for individuals dealing with chronic and acute pain.Dr. Armin V. Oskouei
Atlanta, GA (PRWEB) November 13, 2014
Dr. Armin V. Oskouei of Ortho Sport & Spine Physicians in Atlanta is pleased to announce that he has developed a proprietary method of neuro monitoring that enables patients to stay asleep under general anesthesia while undergoing endoscopic spine surgery. In the past, and as is the case with most other surgeons in the U.S., patients are required to be awake during endoscopic Lumbar Discectomy in order to make the surgeon aware if he or she is hitting a nerve or causing them pain during the procedure. This safety precaution was put into place to prevent nerve damage resulting from hitting or getting too close to a nerve. This practice is still in use by the majority of spine physicians throughout the United States. In contrast, countries like Germany that perform a large number of endoscopic Lumbar Discectomy procedures use general anesthesia for the majority of these procedures.
Staying awake during endoscopic Lumbar Discectomy is obviously significantly uncomfortable for patients. Moreover, this technique gives their doctors a false sense of security since patients usually end up requiring some level of sedation to tolerate the procedure, and therefore cannot always be trusted to give completely accurate information. Using a combination of fluoroscopy, high definition monitors with endoscopy, and a patent pending neuro monitoring system, Dr. Oskouei is able to successfully perform endoscopic Lumbar Discectomy surgery on patients while they are asleep, while minimizing risking nerve damage. This revolutionary technique takes human error out of the equation and makes it safer and more comfortable for patients who require Lumbar Discectomy surgery to treat low back pain and other associated conditions. Dr. Oskouei's research team has also been studying whether this system will reduce temporary post-operative dysesthesia which is known to historically happen in a certain small percentage of transforaminal endoscopy cases.
According to data provided by the National Institute of Health Statistics, back pain is the most common type of pain experienced by Americans. Additionally, back pain affects approximately eight out of ten people in the U.S. at some point in their lives. This forces many individuals who have tried other treatments without success to consider surgical treatments for chronic low back and leg pain. Endoscopic Lumbar Discectomy is a popular, minimally invasive surgical treatment that can be used to treat low back pain and other symptoms caused by herniated, protruded, extruded or degenerative discs in the lumbar spine. During this procedure, the surgeon uses an endoscope to make a very small incision to access the affected disc. The surgeon can then selectively remove only the portion of the tissue that is causing the problem. The rest of the tissue is left intact thereby allowing for less tissue destruction, quicker recovery times, and earlier rehabilitation as compared to traditional open back surgery or fusion surgery.
Although endoscopic Lumbar Discectomy provides an attractive alternative to open back surgery, the requirement of staying awake for the surgery is a major drawback for many patients and their surgeons. With this new proprietary, qualitative and quantitative neuro monitoring system, Dr. Oskouei is able to provide patients with all the benefits of endoscopic Lumbar Discectomy without requiring them to stay awake during the procedure. According to Dr. Armin V. Oskouei, "My proprietary qualitative and quantitative neuro monitoring system is a number based system that enables me to provide my patients with the option of staying asleep during endoscopic Lumbar Discectomy surgery, without compromising their safety. In fact, this system makes it safer for patients while at the same time improving their comfort. In essence, with this system, patients can have their cake and eat it too. This technique is only the latest component of an overall strategy of using the most advanced technology, equipment and techniques to improve patient care and outcomes for individuals dealing with chronic and acute pain."
About Dr. Armin V. Oskouei:
Dr. Armin V. Oskouei is an interventional spine physician with double board certifications in Anesthesiology and Interventional Spine medicine. He is currently in private practice at Ortho Sport & Spine Physicians located at 5730 Glenridge Drive NE, Suite 230 in Atlanta, Georgia. If you would like to get more information about Dr. Oskouei or Ortho Sport and Spine Physicians, please call their Atlanta office at 678-752-7246 or visit their website at http://www.orthosportandspine.com.