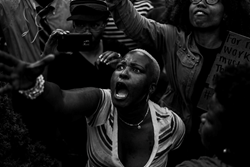 If it's true that white people don't want to see black people as equals, how do we change that? How do we work together to challenge that way of being?
Los Angeles, California (PRWEB) June 23, 2017
ENDPAIN. The name, intrepid and jarring, may read like something you'd see on a wilting sign in Chinatown or in the subject line of a junk email, but the online editorial platform dedicated to sharing stories and tools for dismantling paradigms driven by fear, shame, and guilt, is everything but.
"It's not pain itself we're trying to end," founder, Alison Hersel explains, "but the social stigmas that create pain and alienation."
ENDPAIN's mission statement is bold: we're a network of individuals re-imaging the way we think about, talk about, and process pain. What falls under the platform's definition of "pain" is understood by their wide variety of narratives ranging from cancer and disease to societal stigmas surrounding race, disability, and suicide.
Devin Allen, photographer behind the iconic images of the Baltimore Riots, published a photo essay and poem this week on the platform to coincide with the release of his book, "A Beautiful Ghetto," and to promote his non-profit that gives cameras to Baltimore youths.
Allen's poem, which can be read now on the site, may seem dividing to some at first read, with a verse stating, "White people hates us because they see us as equals but don't want to." Hersel, however, who wrote a piece to coincide with Allen's, sees these sorts of polarizing ideas as a way to open a dialogues around difficult or "painful" subjects, without invalidating anyone's experiences.
"I wrote to Devin: 'If it's true that white people don't want to see black people as equals, how do we change that? How do we work together to challenge that way of being? Your work documenting police violence and protests inspires change by revealing the truth of what is. This helps to create an idea of what should be.'"
Unlike other storytelling platforms, ENDPAIN has an intended action aside from sharing stories. By breaking out of these paradigms, ENDPAIN hopes to capture a greater truth that exists beyond the societal roles we all play, above the labels and stigmas that influence the way we think about ourselves and our own stories, many of which are often impacted by negative external judgements, which Hersel believes, lead to various manifestations of physical, mental or emotional pain.
By cultivating more compassion for "the other" and for ourselves through the use of story sharing, ENDPAIN aims to create a world in which our individual differences are valued, and where all people are able to engage and contribute in a way that's meaningful to them.
"Stories can inform social action and integrate polarized groups." Hersel states. These stories aren't tales highlighting tragedy, but self-reflective narratives that examine and articulate process; words that are meant to leave you feeling less alone and more connected than when you started.
"We can create a world where our differences are honored and space is created for self-discovery, healing, and feelings." Hersel states, reiterating again that it is up to us as individuals to heal society by reexamining our own perceptions and judgements.
"A Beautiful Ghetto" is available for purchase on July 11th. Subscribe to ENDPAIN to receive updates on collaborations with other artists, activists and innovators like Devin Allen.