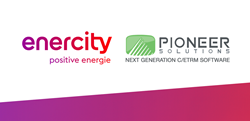 We are proud and excited by enercity's selection of Pioneer, which is especially gratifying after an extremely thorough evaluation process that demonstrated the true value of TRMTracker and its ability to help companies 'future-proof' their ETRM solution in the upcoming decade
HANOVER, Germany (PRWEB) December 17, 2019
Pioneer Solutions LLC announced today that enercity AG (formerly Stadtwerke Hannover AG) has selected its TRMTracker Energy Trading and Risk Management (ETRM) system, supporting enercity's upstream and downstream business operations including access to wholesale trading markets and risk management services.
Enercity AG is one of the largest, integrated municipal energy service companies in Germany with an annual sale of around 2.4 billion euros. On the retail side, enercity supplies electricity, natural gas, water and district heating as well as energy-related services under the "enercity - Positive Energy" umbrella brand. Enercity also owns and operates various electricity generation and energy storage assets. Germany is the primary market for enercity's products and services. The company is headquartered in Hannover, Germany.
"In order to continue to meet todays and future market requirements as well as cost pressures, enercity trading leadership realized that its existing ETRM system needed to be replaced" said Ralf Henze, head of project Digitalization Energy Management and Trading at enercity AG. "As part of our project, we looked for a system capable of delivering highly automated front-to-end trade life cycle management, risk management, and position management, that could easily be integrated into the existing application landscape. After a multi-phased review of industry-leading solutions, Pioneer gave us the confidence with their state-of-the-art technology to achieve these objectives."
Voted "Preferred ETRM System" by clients and peers, TRMTracker offers a comprehensive and scalable software solution for energy trading and risk management, supporting the entire trading cycle from trade capture and contract management, to pricing and complex fees, options, cascading of futures, trade confirmations, portfolio management and valuations, risk controls, collateral and credit management, to settlement, and regulatory compliance reporting. TRMTracker is able to capture both physical and financial deals for all asset classes and commodity types.
"We are proud and excited by enercity's selection of Pioneer, which is especially gratifying after an extremely thorough evaluation process that demonstrated the true value of TRMTracker and its ability to help companies 'future-proof' their ETRM solution in the upcoming decade", said Hugo Stappers, Director of Sales & Marketing EMEA at Pioneer Solutions. "enercity is a very significant win for Pioneer and will be a catalyst for continued expansion in Germany."
About Pioneer Solutions
Pioneer Solutions is a global provider of C/ETRM, environmental management and financial and regulatory compliance solutions. Serving utilities and trading companies across the globe, Pioneer's Suite of flexible software applications deliver easy-to-use and integrated functionality for Trade Capture, Position Analysis, Portfolio Management, Risk Reporting and Settlement, thereby providing the insight and granularity to manage operations optimally. Our pioneering and award-winning software offers a user-configurable environment and designed for rapid deployment resulting in a lower total cost of ownership and enhanced customer satisfaction.