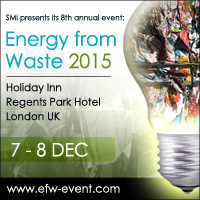 Feedback from previous attendee "Good Quality Speakers" - Suffolk County Council
London, England (PRWEB UK) 13 July 2015
Supported by the Environmental Services Association, SMi's 8th annual conference on Energy from Waste will bring together industry professionals and local councils working in waste, bioenergy, environmental services and infrastructure finance. It will strengthen knowledge in key topics such as, merchant funding, recycling and European trade, whilst looking at the practicalities of biomass gasification and keeping attendees at the forefront of technological breakthroughs to adapt to the growing need for greener energy.
Understanding EU initiatives surrounding the circular economy and British Policy around energy production and waste management will be a major focus, as will hearing from a selection of local councils currently implementing energy to waste projects. This will include case studies from Great London Authority, Southwark Council, North London Waste Authority, Sutton council, Welsh Government and North Yorkshire County Council.
An exclusive update on the energy from waste industry from the Environmental Services Association (ESA) Executive Director, Jacob Hayler, will be just one of the event highlights for 2015.
Featured Speakers Include:

John Twitchen, Chief Executive, Copper Consulting
Andrew Hartley, Director, Waste and Bioenergy, Green Investment Bank
Christopher Maltin, Chairman, Organic Power
Jacob Hayler, Executive Director, Environmental Services Association
Guillaume Perron-Piché, Policy Officer, European Suppliers of Waste to Energy Technology
Dr Yassir Makkawi, Senior Lecturer, European Bioenergy Research Institute, Aston University
Dr Artem Rodin, Council, Advocate, Infrastructure, Project Finance and Construction Practice, CMS Russia
Peter North, Senior Manager, Program Delivery (Sustainable Energy), Greater London Authority
Johnny Stuen, Technical Director, Waste-to-Energy Agency, City of Oslo
Peter Maclaren, Director, Levenseat Ltd
For further details and to see the full line-up, visit the website at http://www.efw-event.com
SMi's 8th annual conference...
Energy from Waste
7th - 8th December 2015
Holiday Inn Regents Park, London UK
http://www.efw-event.com
Supported by the Environmental Services Association
---ENDS---
About SMi Group
Established since 1993, the SMi Group is a global event-production company that specializes in Business-to-Business Conferences, Workshops, Masterclasses and online Communities. We create and deliver events in the Defence, Security, Energy, Utilities, Finance and Pharmaceutical industries. We pride ourselves on having access to the world's most forward thinking opinion leaders and visionaries, allowing us to bring our communities together to Learn, Engage, Share and Network. More information can be found at http://www.smi-online.co.uk