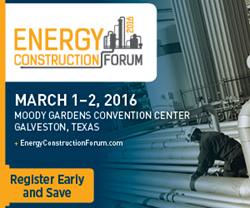 "Our distinguished advisory board has selected very notable speakers and timely topics that capture not only the massive wave of downstream construction in the US, but the challenges and solutions facing the industry today and into the future."
Houston, Texas (PRWEB) November 16, 2015
The Energy Construction Forum provides a unique and timely gathering covering all phases of major expansions and new construction projects with a focus on the challenges and solutions facing the industry today.Based on industry advisory board input, the 2016 conference sessions will focus on best practices in the energy construction industry, North American refining and petrochemical economics, and project trends and forecasts. This dynamic program has been built by the industry...for the industry. It focuses on planning and delivering capital projects successfully and safely, and the high-level Energy Construction Forum attendees are searching for solutions to enable their project's success.
The forum caters to companies involved in major projects: expansions, new construction and infrastructure development for the petrochemical, refining, chemical, pipeline, terminals & storage, loading/transfer systems, GTL, LNG and NGLs industries. This year's event also features an integrated layout, with all events taking place in one room.
Discussion Highlights Include:
>> Workforce labor trends, demands, and forecasts in the lower-cost marketplace — Featuring Jeff Gill, Vice President of Human Resources, Sasol and others
>> Owners & EPCs – contracting strategies and trends for success — Featuring Dale Sullivan, Operations Manager, S&B Engineers & Constructors; Steve Corbin, Vice President Projects Downstream, Shell; and others
>> Workforce strategies, tactics and best practices — Featuring Harry Harrison, Director of Construction Process Plants and Industrial Business Unit, Wood Group Mustang and others
Featured Presentations Include:
>> North America crude price differentials: What do they mean for refiners and refining investments? —Afolabi Ogunnaike, Senior Analyst, Wood Mackenzie
>> How to avoid project train wrecks — Pete Luan, Owner, Pete Luan & Associates
>> The missing key to improved project efficiency —Samin Shokri, Service Offers Manager, Coreworx
"We are very excited about the 2nd annual Energy Construction Forum," stated Lee Nichols, Editor-Associate Publisher for Hydrocarbon Processing and Chairman of the ECF Industry Advisory Board. "Our distinguished advisory board has selected very notable speakers and timely topics that capture not only the massive wave of downstream construction in the US, but the challenges and solutions facing the industry today and into the future."
The full preliminary agenda may be viewed here. For more information, you may also visit the event website at http://www.energyconstructionforum.com.
Hosted by Hydrocarbon Processing and Construction Boxscore Database and organized by Gulf Publishing Company and Stone Fort Group, this forum will once again bring together key stakeholders in the rapidly growing marketplace for midstream and downstream energy projects and construction.
With estimated projects at more than $500 billion and growing in North America, ECF is the best opportunity to connect with major project leaders in the energy industry, interact with key engineering firms and suppliers, and engage on topics regarding the opportunities, challenges and solutions for the current state of the industry. After an attendance of 350+ in its inaugural year, including leading E&C firms and OOs, the Energy Construction Forum conference and expo looks forward to expansion in its second year. In this turbulent oil & gas economy, the Energy Construction Forum demonstrates the resilience of one of America's most dynamic industries and the launch of a new gathering place for energy project leaders and stakeholders to come together and find solutions.
About Stone Fort Group:
Stone Fort Group Launches, Manages and Organizes Remarkable Events & Media Brands. This is a major part of our business and still showcases a simple truth: There is no substitute for connecting senior business people to share experiences, discuss the issues and opportunities and build partnerships.We have a strong history of building rewarding partnerships, alliances, joint ventures and show management relationships with b2b visionaries, publishers and associations in order to successfully serve new and emerging markets. Additionally, we have worked with numerous groups, associations on their current events, magazines, websites and newsletters to take them to the next level of growth. Our conferences, summits, training and trade shows range from closely focused niche events, to an annual industry gathering where major strategy, policy and product announcements are made. Stone Fort Group currently serves the following markets with events, newsletters & online throughout North America:
>> Energy: Energy Construction Forum
PetroTrans
National Ethanol Conference
WorkforceNEXT
>> Transportation: NACE | CARS
MSO Symposium
Service Repair Leadership Forum
Technology & Telematics Forum
About Gulf Publishing Company:
Gulf Publishing Company is an international publishing and events business dedicated to the energy sector. Founded in 1916, Gulf Publishing Company produces and distributes leading trade journals (World Oil, Hydrocarbon Processing and Gas Processing magazines), and provides research, databases, software and events designed for the needs of the energy industry. Combined, the specialized publications of Gulf Publishing Company reach an audience of more than 100,000 upstream and downstream energy industry professionals worldwide.