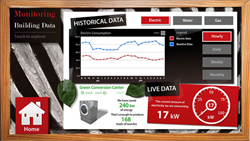 Stop by booth 214 and learn more about QA Graphics' custom EEED dashboards.
Ankeny, IA (PRWEB) October 20, 2014
The Greenbuild Expo provides endless opportunities and engagement in the ever-growing green movement. This year they are expecting around 23,000 attendees and 750 exhibitors to come together.
QA Graphics is excited to meet fellow industry leaders and experts as well as showcase their innovative products and services. This year QA Graphics will be presenting their award winning Energy Efficiency Education Dashboard® (EEED) which educates building occupants on energy efficiency by utilizing a building's energy data and green building features. The EEED is available on large format displays, desktops, tablets and mobile devices. With complete customizability, the dashboards are ideal for any organization.
Are you interesting in attending Greenbuild? Make sure to stop by booth 214 to check out QA Graphics' products and speak with their experienced staff. For a free visitor pass, please enter discount code 4TOU0ES478 here. QA Graphics looks forward to seeing you!