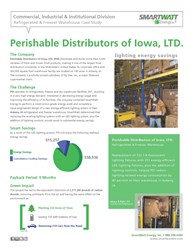 Sustainability projects allow us to operate more efficiently, while improving the environment for future generations.
Chicago, IL (PRWEB) November 13, 2013
Perishable Distributors of Iowa (PDI), one of the largest food distribution companies in the Midwestern United States and a wholly-owned subsidiary of Midwest supermarket chain Hy-Vee, recently completed a major sustainability project at their Ankeny, IA distribution warehouse. Their new SmartLighting system, designed and installed by SmartWatt Energy, is estimated to save more than $74,000 per year in energy and coincidence cooling savings. The project will have the equivalent effect on the environment as planting 333 acres of trees, according to U.S. Environmental Protection Agency calculations.
"Sustainability projects allow us to operate more efficiently, while improving the environment for future generations," explained Jim Brandt, Senior Vice President of Warehousing at PDI. "Our parent company had a great experience working with SmartWatt on their SmartLighting project. Like them, we were impressed with the ease of the process and the results."
After performing a construction-grade energy audit and completing a value-engineered design of the Ankeny, IA facility, SmartWatt's Chicago-based team installed a SmartLighting project that replaced 722 T-8 fluorescent lighting fixtures with 351 energy-efficient LED lighting fixtures, while adding motion-based lighting controls. Their goals were to help PDI decrease energy usage and improve the efficiency of their facilities. Due to the superior performance of the new lighting system, SmartWatt was able to install fewer lighting fixtures, further reducing PDI's energy consumption and environmental impact, while providing a better quality and quantity of light. This project was eligible for a substantial energy efficiency rebate from PDI's utility, MidAmerican, bringing the project payback period down to just nine months.
About Smartwatt Energy, Inc.
SmartWatt Energy is a unique energy-efficiency firm. It provides turnkey solutions for utilities, commercial, industrial and institutional clients and also develops proprietary software that streamlines internal workflow processes and provides comprehensive program reporting. SmartWatt Energy's three divisions use cutting-edge technologies, design and processes to take on and solve their customer's toughest sustainability challenges:

The Commercial, Industrial and Institutional Division works with end-use customers throughout the United States to design and install multi-measure energy-efficiency projects. Clients look to SmartWatt Energy to provide large-scale savings through turnkey energy auditing, engineering, project management and installation services.
The Utility Division contracts directly with utilities to manage their commercial energy efficiency programs. SmartWatt Energy's vertically integrated program delivery platform ensures utility program success and customer satisfaction, because all elements of the utility program are handled by a talented, integrated, cross-functional team.
The Software Development Division creates customized, proprietary software applications to increase efficiencies and provide added value to utilities and national accounts clients.
SmartWatt Energy has won two Inc. magazine "Hire Power" awards and has twice been named one of the "Fastest Growing" private companies in the United States on the magazine's annual 5000 list. For more information, visit http://www.smartwattinc.com.