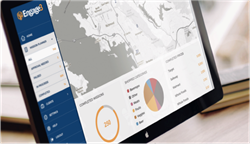 By leveraging the combination of data science, digital assistants, and competitive intelligence, Engage3 is able to return a 5x improvement over traditional mass promotions.
Davis, California (PRWEB) May 25, 2016
Engage3, a leading competitive intelligence and consumer personalization company, announced today that Moneta Ventures will lead the investment of its Series B round of financing. Folsom-based Moneta is the leading technology venture firm in California's capital region investing in software, cloud, internet, and consumer sectors.
Engage3's cross-industry platform addresses several challenges plaguing the Consumer Packaged Goods (CPG) industry. As it becomes increasingly important to differentiate from both traditional brick and mortar competitors as well as growing online threats such as Amazon, retailers are faced with a uniquely difficult challenge: they must execute effective pricing and assortment strategies while developing a personal relationship with their customers. Engage3 provides omni-channel competitive intelligence solutions that leverage data science, analytics, and over 40 years' worth of product and pricing data to help CPG companies set competitive market prices while maximizing margin.
At the same time, in CPG alone, $1 trillion is spent globally on consumer and trade promotions but most fail or break even. Engage3 incorporates digital assistants, predictive analytics, and its market intelligence cloud to improve and personalize marketing. This leads to improved customer targeting and personalized promotions, maximizing profit and customer loyalty. The platform will be deployed through consumer media companies, directly through retailers' loyalty and customer relationship management programs, and via the connected home.
The company plans to use the capital to ramp revenue growth from its competitive intelligence platform and to accelerate the implementation of its personalized promotions platform. By leveraging the combination of data science, digital assistants, and competitive intelligence, Engage3 is able to return a 5x improvement over traditional mass promotions, as found in a study with Arizona State University. IDC Retail Insights recognized Engage3 as an early mover in the space of participatory commerce and predicts that by 2020 product intelligence clouds such as Engage3's personalization platform, will influence $3.7 trillion of retail spending in the U.S. alone.
"Engage3's management team has a great record in the retail space. Their demonstrated domain expertise combined with current customer traction, the technology platform they have already built, and the product roadmap makes a very compelling investment thesis," said Lokesh Sikaria, managing partner of Moneta Ventures. "Engage3 is well established in the ecosystem and has partners poised to change the way consumer goods are bought and sold. We are happy to lead this round of investment and to work with the team to raise additional investment."
"We are thrilled to receive this investment from Moneta Ventures," said Engage3 CEO, Ken Ouimet. "The Moneta team has a history of founding and scaling companies to hundreds of millions of dollars in revenue, is the leading venture group in the region, and has a proven hands-on approach of working with their portfolio companies as they reach their growth stage."
About Engage3™:
Founded by the same team that pioneered Retail Price Optimization at Khimetrics, Engage3 combines data science, deep domain expertise, and innovative technology to be a leading competitive intelligence provider and consumer science company. Engage3's omni-channel competitive intelligence SaaS platform, MissionControl™, improves CPG companies' competitive visibility and maximizes the ROI of their competitive intelligence programs. MissionControl™ is powered by advanced predictive analytics and Engage3's historical product and pricing database, which consists of over 8 million UPCs and 10 billion price updates per year across over 32,000 retail locations. Engage3 is also recognized by IDC Retail Insights as a first mover in providing participatory commerce solutions for retailers and manufacturers via its personalized offers platform, Vantage Offer Optimization™. The platform leverages digital assistants to enable true 1-1 offers that improve the ROI of trade funds 5x over traditional promotions and help retailers & brands transition to this hyper competitive future of personalized pricing. More information is available at http://www.engage3.com.
About Moneta Ventures:
Moneta Ventures enables entrepreneurs to grow their early stage companies by providing capital, guidance, and operational support. Moneta Ventures invests in early-mid stage companies in the software and cloud services, IT services, and internet and consumer services sectors. Moneta Ventures focuses on highly differentiated companies with highly-scalable business models. For more information, visit http://www.monetaventures.com.