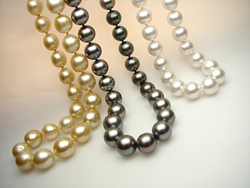 San Francisco, CA (PRWEB) March 24, 2014
Union Street Goldsmith is excited to announce that they are now carrying a new selection of gorgeous South Sea pearls at significantly discounted prices.
The South Sea pearl collection includes strands of golden, white and black Tahitian pearls. The pearls come in a variety of sizes, but everyone knows that bigger is better, and Union Street Goldsmith has some of the biggest. Some of these pearls are as large as 14.7 millimeters.
The prices for the South Sea pearls are so low it's impossible to pass them up. They range from just $4,750 up to $12,500. With the recent new developments in the pearl-growing processes, all pearl prices have gone down, resulting in fantastic deals on pearl jewelry, and there's no better place to buy jewelry from than Union Street Goldsmith.
Union Street Goldsmith is a custom jewelry store located in the Marina District of San Francisco, CA. They offer a variety of stunning and unique jewelry, including diamond engagement rings and wedding bands. The store offers a relaxed and friendly atmosphere for customers to browse and boasts a knowledgeable staff to help every customer choose the perfect piece. For more information about Union Street Goldsmith, give them a call at 415-776-8048 or visit their website at http://www.unionstreetgoldsmith.com/.
About the company:
Glenda Queen, with a background in arts and crafts, entered the jewelry business in 1964. After 11 years of making jewelry at McLeans in Sausalito, she and her present partner, Terry Brumbaugh, opened Union Street Goldsmith. Queen chose a neighborhood she hoped would be a comfortable setting for her craftsmen as well as her clients and it worked. Brumbaugh, raised in the jewelry business, later became a gemologist. After an extensive period of travel, he joined with Queen to head up the Union Street Goldsmith sales staff. Brumbaugh has a rare gift in his memory of client's collections, enabling him to design new pieces to fit his clients' special tastes and their collections. An excellent sense of style and fashion endows Brumbaugh with the ability to give valuable guidance to his clients in their jewelry selection, helping each one to create an overall special look within their collection.