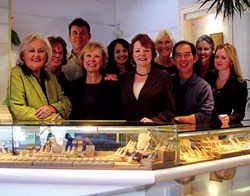 San Francisco, CA (PRWEB) August 23, 2013
Union Street Goldsmith is pleased to announce they are now offering distinctive wedding band designs by Jerry Spaulding.
Mr. Spaulding is an expert in titanium and metalsmithing. His timeless designs combine yellow, white and rose gold with titanium. This is accomplished by using a titanium sleeve with the gold outer ring with a stripe of titanium that keeps the ring lightweight, and cuts the price to the customer because titanium is much less expensive than gold. The new collection is extremely durable, perfect for any couple.
These exceptional bands have a classic look with a twist. If couples don't want one of the same factory designs that are virtually everywhere, come take a look at Union Street's wedding bands by Jerry Spaulding. In addition, they will also fully customize any wedding band, or provide an existing variation on a titanium design.
Union Street Goldsmith is located at 1909 Union Street in San Francisco. For more information, visit their website at http://www.unionstreetgoldsmith.com.
About the company:
Glenda Queen, with a background in arts and crafts, entered the jewelry business in 1964. After 11 years making jewelry at McLeans in Sausalito, she and her present partner Terry Brumbaugh, opened Union Street Goldsmith. Glenda chose a neighborhood she hoped would be a comfortable setting for her craftsmen as well as her clients and it worked. Terry Brumbaugh, raised in the jewelry business, later became a Gemologist. After an extensive period of travel, he joined with Glenda to head up the Union Street Goldsmith sales staff. Terry has a rare gift for his memory of client's collections, enabling him to design new pieces to fit his clients' special tastes and their collections. An excellent sense of style and fashion endows Terry with the ability to give valuable guidance to his clients in their jewelry selection, helping each one to create an overall special look within their collection. Union Street Goldsmith is the ideal place to find custom jewelry, engagement rings or diamond rings. For more information and to preview their collection, please visit their website.