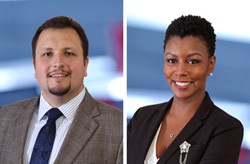 Denine and Adrian both demonstrate the high levels of expertise, passion and commitment to quality we require in those we ask to join our brand.
New York, New York (PRWEB) October 07, 2013
The international luxury real estate firm, Engel & Völkers, today announced the addition of Denine Townsend as Brokerage Services Manager and Adrian Chadzynski as Technology Manager, to its North America offices in New York City. The global brand continues to build its management team to support its growing network of affiliates throughout North America.
"Denine and Adrian both demonstrate the high levels of expertise, passion and commitment to quality we require in those we ask to join our brand," said Anthony Hitt, COO Engel & Völkers North America. "In their respective roles, they will each be in charge of enhancing our operations and service offerings to our affiliates throughout our North American network. We also continue to add to our management team to support our ever growing presence on the continent."
Townsend brings more than 10 years of luxury brand and national real estate experience. She joins Engel & Völkers from Brown Harris Stevens Select, a luxury new development marketing group established under the name of Brown Harris Stevens, the oldest and one of the most prestigious real estate firms in New York City.
"I am thrilled to belong to this highly respected brand, and to be a member of the team that is delivering this exceptional standard of service to more markets," said Townsend. "In my experience, no other real estate company has developed the services, tools, global marketing strategy, and international network at the level that Engel & Völkers has."
Chadzynski brings nine years of experience in the IT field having previously been with Computer Sciences Corporation, a global IT business solutions firm where he was Staff Consultant. He was responsible for the development and management of IT systems for clients including fortune 500 companies such as Mizuho Japanese Bank, General Dynamics, and New York Presbyterian Hospital.
"Engel & Völkers has provided the opportunity to join a team that will truly revolutionize the way real estate business is conducted in the U.S.," said Chadzynski. "I have personally experienced the prestige of the brand from my travels abroad and I look forward to being part of their ongoing success in the States."
About Engel & Völkers
Since its beginning in 1977 as a specialty boutique providing exclusive, high-end real estate services, Engel & Völkers has become one of the world's leading companies specializing in the sale and lease of premium residential and commercial property and yachts. Engel & Völkers opened its first brokerage in the U.S. in 2007 and currently operates a global network of over 4,200 real estate advisors in 492 residential brokerages and 43 commercial offices spanning 37 countries across six continents, offering both private and institutional clients a professionally tailored range of luxury services. Committed to exceptional service, Engel & Völkers supports its agents with an array of high quality business services; marketing programs and tools; cutting edge mobile, social and web technologies; as well as access to its global network of real estate professionals and data. Engel & Völkers is an active supporter of the Fair Housing Act and the Equal Opportunity Act. Each brokerage is independently owned and operated.