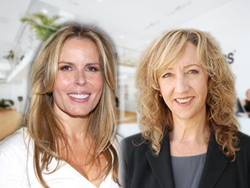 We are extremely proud they have been recognized not only for their success but for the outstanding service they provide to their clients every day
New York, NY (PRWEB) July 01, 2013
Lourdes Alatriste of Engel & Völkers Miami Bal Harbour, and Sandra Miller of Engel & Völkers Santa Monica, were named two of America's top real estate professionals by REAL Trends and The Wall Street Journal. They are now members of the "Top Thousand Top Real Estate Professionals," a prestigious annual awards ranking sponsored by the two respected publications. Both Alatriste and Miller are now ranked in the top one half of 1 percent of the more than 963,000 REALTORS® nationwide.
"Both Sandra and Lourdes have been top performers within our international network which includes Engel & Völkers advisors in 37 countries worldwide," said Anthony Hitt, Chief Operating Officer of Engel & Völkers U.S. "We are extremely proud they have been recognized not only for their success but for the outstanding service they provide to their clients every day."
This national ranking announced on June 28, 2013, is divided into four categories with the top 250 sales professionals listed in each. The categories are: Individual Agent-Sales Volume, Individual Agent-Transaction Sides, Agent Team-Sales Volume and Agent Team-Transaction Sides.
Both Engel & Völkers advisors ranked in the Individual Agent-Sales Volume Categories. Alatriste had sales volume totaling $77,950,000.00, ranking her 106 in the nation. Miller had sales volume totaling $65,106,500.00 ranking her number 162 in the nation.
"With the growth of our brand in additional U.S. markets this year, we look forward to the 2014 ranking in which we are confident more of our top advisors will join Lourdes and Sandra in this distinguished ranking," said Hitt.
REAL Trends, a leading source of analysis and information for the residential real estate brokerage industry, and the Wall Street Journal developed the awards program jointly and released its first ranking seven years ago. The Real Estate Top 1,000 honors America's elite real estate agents and their companies and is compiled and analyzed by REAL Trends.
About Engel & Völkers
Since its beginning in 1977 as a specialty boutique providing exclusive, high-end real estate services, Engel & Völkers has become one of the world's leading companies specializing in the sale and lease of premium residential and commercial property and yachts. Engel & Völkers opened its first brokerage in the U.S. in 2006 and currently operates a global network of over 4,200 real estate advisors in 492 residential brokerages and 43 commercial offices spanning 37 countries across six continents, offering both private and institutional clients a professionally tailored range of luxury services. Committed to exceptional service, Engel & Völkers supports its agents with an array of high quality business services; marketing programs and tools; cutting edge mobile, social and web technologies; as well as access to its global network of real estate professionals and data. Engel & Völkers is an active supporter of the Fair Housing Act and the Equal Opportunity Act. Each brokerage is independently owned and operated.