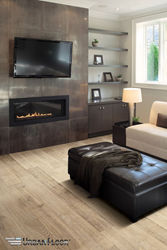 "Other flooring options will quickly lose their shine as people begin to see the many benefits engineered floors have to offer at competitive prices."
City of Industry, CA (PRWEB) May 13, 2014
Engineered hardwood flooring began in the late 1990s, but did not start to gain ground until around the early 2000s. Urban Floor, a Southern California wood flooring company has especially seen the number of inquiries for engineered hardwood floors increase and quickly take hold of just under 50% of its total market share in the wood flooring segment.
Engineered floors intrigue customers because they are offered in many colors, textures, and sizes, with planks that range up to 12-inches wide and thicknesses ranging from 3/8" – 3/4", directly competing with solid hardwood flooring; while offering benefits that solid hardwood floors simply cannot provide.
"Customers love the freedom of design that engineered wood floors offer. Looks can range from sleek to rustic and heavily distressed. It all depends on what the customer wants", says Urban Floor's Vice President of Sales, Tony Em Mergreh.
Versatility
Engineered hardwood floors offer its customers more flexibility in terms of installation; they can be glued, nailed, stapled, or locked. Because engineered floors have the ability of being firmly glued instead of nailed, they can be installed below grade and in places where concrete slab construction is present, such as in a basement.
Engineered wood floors are manufactured under extreme heat and pressure enabling them to withstand temperature and humidity changes far better than it's counterpart, solid hardwood floors. This dramatically decreases the chance of warped boards, giving customers more comfort in their purchase.
Engineered floors are also prefinished in a factory with aluminum oxide, which is the hardest manmade crystal in the world. This ensures that floors last a considerable amount of time (often up to 25 years or more).
Environmentally Conscious
Customers find that an added bonus to engineered flooring is its approach to the environment, an aspect many consumers have been concerned with over the years. One tree can produce far more engineered floors than it can solid wood flooring. Mergreh states, "For each square foot of solid ¾" veneer (thickness of all solid flooring), you can make up to 24 square feet of veneer for engineered flooring." Typically, the plywood layers beneath the hardwood veneer are made from recycled fibers that decrease the amount of waste and pollution that goes into the development of hardwood floors.
Skeptics
There are skeptics that believe engineered hardwood floors are not "real" floors. It's a fact that engineered floors are made with a "real" solid hardwood veneer, which comes from a real source of wood. Engineered flooring is not to be confused with laminate flooring options, which simulate wood floors using advanced photographic imagery.
Skeptics also believe engineered floors are "cheap" or of poor quality. "As with any product, there are quality versions and cheaper versions. Quality engineered floors are made with precision and higher quality raw materials resulting in a lasting product", notes Mergreh.
"We strongly believe that engineered flooring will be taking at least 15% more market share within the next 5 years," says Mergreh. "Other flooring options will quickly lose their shine as people begin to see the many benefits engineered floors have to offer at competitive prices." Many contractors, builders, designers, and homeowners have already expressed their preference for engineered wood flooring.
About Urban Floor
Founded in 2003 and located in Southern California, Urban Floor is an established wood flooring company that has been proudly serving its clientele with high-quality hardwood flooring options. They are committed to innovative practices that result in action and not just words. Urban Floor carefully balances the goal of adding beauty and character to magnificent architectural structures while ensuring the preservation of our natural resources.