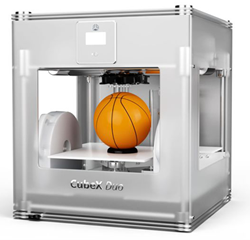 "We are encouraging the media, school administrators, educators, and parents to help us get the word out to their communities." -- John Cioffi, DesignPoint CEO
Clark, New Jersey (PRWEB) February 24, 2015
DesignPoint Solutions, a leading provider of complete solutions for product design, engineering, and manufacturing in the Northeast and Mid-Atlantic states, is proud to participate in Engineers Week, February 22-28. Presented by The DiscoverE, Engineers Week encourages companies and individuals to help celebrate engineering by hosting events that educate students about the profession. DesignPoint will present a live, thirty-minute streaming event that will showcase product design, simulation, and 3D printing of a basketball and hoop.
"We are thrilled to be part of this truly virtual event devoted to exposing young people to the field of engineering," stated John Cioffi, CEO of DesignPoint. "Engineering and other STEM (Science, Technology, Engineering, Math) careers help shape the world. These jobs are in high demand–with countless job openings and high starting salaries. Here at DesignPoint, we want to do our part by exposing students to the amazing innovations in the field of engineering and hopefully, encourage them to consider engineering as a career."
DesignPoint's presentation "Engineers: Turn Ideas Into Reality™" will be held Wednesday, March 4th from 5:30 to 6 pm eastern time. The event has been developed for high school and university students who are interested in learning more about engineering. During the live streaming event, DesignPoint engineers will design and create a basketball and hoop. The following technologies will be demonstrated:

What is computer-aided design (CAD)?
Mechanical design using SOLIDWORKS CAD software
Structural simulation to demonstrate when a failure could occur
3D printing for creating a prototype
"We are encouraging the media, school administrators, educators, and parents to help us get the word out in our communities," continued John Cioffi, "You never know what will spark someone's interest. Getting kids thinking about careers in high school gives them more time to explore options before they are forced to select a college or declare a major. We hope to play a role in helping students explore engineering–a thriving career with a high earning potential."
The live streaming event will be held Wednesday, March 4th 5:30 – 6 pm eastern time. Along with students, parents and educators are encouraged to join. To reserve a spot, participants must register at http://www.design-point.com/engineers-week. All registrants will also receive a link to the recording, so they can watch or share later.
About DesignPoint
DesignPoint Solutions provides software, training, support and 3D printers for companies who design and manufacture products in the Northeast and Mid-Atlantic states. They are authorized value-added resellers of SOLIDWORKS (a leading computer-aided design solution – CAD) and 3D Systems (a leading manufacturer of 3D printers). Offices are located in Lancaster, Pa.; Philadelphia, Pa.; Clark, N.J.; and Pikesville, Md. For more information, please visit: http://www.design-point.com