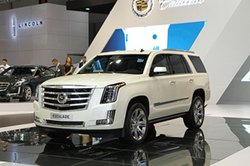 Used automobile engines for F150, Silverado, Focus, Cobalt and other top brands are now sold for cheaper prices through our portal online
Richmond, VA (PRWEB) September 20, 2014
Consumers who buy auto parts from secondary retailers in the U.S. will now appreciate the sale in place at the Got Engines website. All engines for sale that are in used condition now include lower prices for Chevy and Ford blocks at http://www.gotengines.com.
This new change to the price levels that appear in the available inventory for shipment should help consumers find better prices compared to MSRP this year. The Chevrolet and Ford Motor Company inventory has been selected to kickstart the new sale program.
"Used automobile engines for F150, Silverado, Focus, Cobalt and other top brands are now sold for cheaper prices through our portal online," said a Got Engines sales rep.
The preowned automobile engines that are listed for public sale this year can be found when accessing the updated inventory finder on the GotEngines.com homepage. All current sales promotions that are in place are now searchable in one click to assist buyers with finding better engine price tags.
"We've invested into our website over the past several years and it is now easier to find all brands of motors shippable in the U.S.," said the rep.
The Got Engines company has maintained its customer service number at 1-866-320-1065 in the United States since the year 2007. The phone line is still an accessible way to discover pricing, warranty terms and other data that is necessary for consumers to know before a motor is purchased and shipped.
About GotEngines.com
The GotEngines.com company provides instant price information for purchasers of automobile motors in the United States online. The company has added new partners into its database that is fixed to the homepage. The GotEngines.com company uses its network of providers to introduce price savings and direct warranty information for all of the automaker brands of engines that are promoted as in stock and shippable this year.