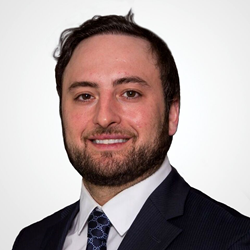 "I look forward to spending time with our patients to find the best tailor-made treatment plan to improve their skin and decrease their risks of developing skin cancer," said Dr. Yousif
Gilbert, AZ (PRWEB) July 17, 2017
English Dermatology is proud to announce Dermatologist Dr. James Yousif has joined the practice. Dr. Yousif will be located at the Gilbert medical office, providing his expertise in the diagnosis and treatment of skin cancer as well as medical and surgical dermatology.
Dr. Yousif received his undergraduate degree from Wayne State University in biological sciences and obtained his medical degree from Michigan State University's College of Osteopathic Medicine before serving as the chief dermatology resident at Lakeland Regional Medical Center in St. Joseph, MI. He also served a MOHS surgery fellowship in Miami under world-renowned MOHS surgeon, dermatologist, and dermatopathologist Dr. Daniel Rivlin.
Dr. Paul English, dermatologist and founder of English Dermatology said, "We are excited to have Dr. Yousif on board. Patients will appreciate his compassion and patient-focused care."
"I look forward to this next chapter of my life and career, especially the opportunity to work with one of the most established and well-respected dermatology practices in Arizona," said Dr. Yousif. "My specialty and passion include skin cancer and MOHS surgery, which is all too appropriate here in the Valley of the Sun."
Dr. Yousif is an expert in MOHS micrographic surgery, a complex and meticulous surgical procedure that removes cancerous skin tissue one thin layer at a time until no more malignant tissue remains. While serving his MOHS fellowship, Dr. Yousif became proficient in, what is thought by many, to be the most crucial part of the surgical process: the precise analysis and pathological interpretation of each piece of removed tissue. This, in part, is why the surgery is known to have a high cure rate – and it is Dr. Yousif's specialty.
In addition to MOHS surgery, Dr. Yousif is also highly experienced in other skin cancer treatments, including cryotherapy, electrodessication, curettage, photodynamic therapy, and excision. When he's not focused on his patients' care, Dr. Yousif enjoys reading, playing golf, working out, traveling, and hiking. He's also a car and motorcycle enthusiast as well as fluent in Arabic and Chaldean, a form of Aramaic.
"Helping patients improve their lives by following proper skin care practices drives me," said Dr. Yousif. "I look forward to spending time with our patients and listening to their concerns so that I can find the best tailor-made treatment plan to improve their skin and decrease their risks of developing skin cancer. Plus, after spending most of my life in Michigan, I'm excited to experience a warm Arizona winter!"
To learn more, including how to schedule an appointment about skin cancer and other dermatological concerns, visit http://www.EnglishDermatology.com/.
About English Dermatology
English Dermatology is part of the West Dermatology network and has locations throughout central Arizona, including offices in San Tan Valley, Gilbert, Ahwatukee, Casa Grande, Desert Ridge, Yuma and other areas of greater Phoenix. The staff of board-certified dermatologists is committed to providing the best, most effective treatments possible to patients of all ages. Each location is equipped with the latest in cutting-edge treatments and procedures to address a broad spectrum of dermatological conditions, including medical treatments, surgical procedures, cosmetic solutions, aesthetic services, and more.
Dr. Paul English, dermatologist and founder of English Dermatology, was recently voted Best Dermatologist once again in the East Valley Tribune 2017 Best of Gilbert readers poll for his exceptional patient care and service. English Dermatology is also the preferred dermatologist for Arizona State University athletics as well as an official marketing partner of the Phoenix Suns and Phoenix Mercury.
For more information contact:
Tom Powell
Vice President Marketing/ Patient Growth
West Dermatology / English Dermatology
949-572-2994 (office)
tpowell(at)westderm(dot)com
http://www.WestDerm.com