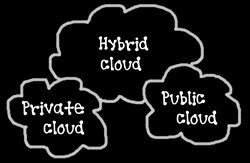 Nearly half of large enterprises will have hybrid cloud deployments by the end of 2017, according to Gartner, Inc.
Princeton, NJ (PRWEB) November 12, 2013
WFT Cloud updated its hybrid cloud service offering enabling enterprises to access capacity beyond their private clouds. The new capabilities provide organizations with more flexibility in network configuration between their datacenter and WFT Cloud as well as provide greater control of assets and computing environments, regardless of where they reside. The updated solution also supports bursting, network extensions, and disaster recovery.
Many organizations are currently leveraging the scalability and flexibility of public cloud for non-production environments such as test and training landscapes. However, they are concerned about losing control of resources for moving their entire landscape (including production) to cloud. Security and compliance factors for production landscapes are also another driving factor. This is causing organizations to embrace a hybrid cloud model, where they can manage production landscapes in-house more easily, while taking advantage of the public cloud features for non-production landscapes.
According to industry analysts, 39 percent of cloud users report that the hybrid cloud is currently part of their strategy, with this number expected to grow to 61 percent in the near future. This is the result of both private and public cloud users evolving towards the use of a hybrid strategy.
Yet, as businesses are showing interest in moving towards a hybrid cloud computing model, they are faced with challenges in terms of integrating existing on-premise software with the applications/landscapes running on public cloud and executing operational activities like System Refresh between production and non-production landscapes. WFT Cloud's extensive experience in deploying SAP applications in different cloud deployment models and migrating multiple SAP landscapes to cloud, enable them to offer tailored solutions for a customer's specific requirements.
"For customers who have already realized the benefits of a private cloud, the next step is the hybrid cloud model," says Rajeev Menon, Sr. VP of SAP Practice of WFT Cloud. "It is meant to lower that barrier of entry."
Ganesh Radhakrishnan, CEO of WFT Cloud further comments, "Nearly half of large enterprises will have hybrid cloud deployments by the end of 2017, according to Gartner, Inc. In the past three years, private cloud computing has moved from a potential solution to a reality for lot of large enterprises. Hybrid cloud computing is at the same place today that private cloud was three years ago; as actual deployments are low, but aspirations are high. We aim to make that transition easier for customers."
About Wharfedale Technologies Inc.
Wharfedale Technologies Inc. (WFT Cloud) is a leading technology consulting firm specializing in SAP infrastructure integrations and services, as well as private/public hybrid Cloud solutions. As an SAP certified provider of cloud services, Wharfedale also offers SAP solutions around - high availability, disaster recovery, advanced sizing for virtualization, back up/recovery Integration, systems refresh automation and landscape optimization.
For more information on Wharfedale and WFT Cloud services, please visit http://www.wftcloud.com or call us at (888) 533-3113.
SAP and all SAP logos are trademarks or registered trademarks of SAP AG in Germany and in several other countries. All other product and service names mentioned are the trademarks of their respective companies.