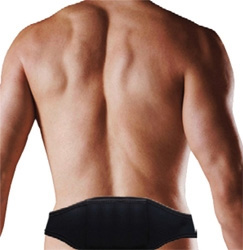 Users of Dr. Allen's therapeutic device achieve a sensational relief of lower urinary tract symptoms as this therapy combats prostate inflammation and growth.
London, GB (PRWEB) January 29, 2014
Benign prostatic hyperplasia (BPH) and chronic prostatitis are associated with lower urinary tract symptoms (LUTS) in about 25% of men in their 50s; however, these symptoms should not be the reason for hooking sufferers on a new combination of medications for a prolonged period of time, as has been recently recommended by the Nursing-Times. The reality is that the side effects of BPH drugs can ruin a man's life, and it occurs too often to be overlooked. In contrast, the Thermobalancing therapy enabled by Dr. Allen's Device relieves LUTS effectively over time, notes Fine Treatment.
It is once daily, fixed-dose combination of solifenacin 6mg and tamsulosin 0.4mg, that is the first combination therapy for both voiding and storage symptoms linked to prostate enlargement, says the article 'Drug combo launched for male urinary symptoms' of January 23, 2014, in the Nursing-Times. It notes that "Tamsulosin is an alpha-blocker, commonly prescribed to treat lower urinary tract symptoms associated with BPH, while solifenacin is an anti-muscarinic treatment that helps the bladder to hold more urine."
The article supported by the National Institutes of Health, Benign prostatic hyperplasia and lower urinary tract symptom guidelines, notes that LUTS are very common in men, with an increase in prevalence correlating with increasing age in a linear manner. Approximately 50% of men over the age of 50 have histological BPH and approximately 25% of men over 50 have moderate-to-severe LUTS.
'The side effects of medications are often accumulated slowly, damaging general health over time. Troublesome LUTS can occur in about 1 in 4 men in their 50s. As our life expectancy has increased, men in their 50s can count on having a long life ahead of them. So an intake of any medication that may be prescribed for life, like in the case of LUTS treatment, must be considered carefully,' notes Dr. Allen. 'Moreover, younger men with chronic prostatitis also tend to suffer from LUTS. And they have an even longer stretch of life to safeguard.'
The National Health Service (NHS) in the UK warns that the new combination of BPH drugs consists of Solifenacin succinate, which is a very common reason for dry mouth, and can cause blurred vision, constipation, indigestion, nausea and stomach pain; while Tamsulosin, the second component, is responsible for ejaculation problems and feeling dizzy.
In contrast, Dr. Allen's therapeutic device helps men to recover from chronic prostatitis and LUTS by improving local blood circulation and metabolic processes in cells at the capillary level. Here is an explanatory video: http://www.youtube.com/watch?v=Sx1xfwwA5KI. Another video shows an interview with a man who has successfully treated enlarged prostate with Dr. Allen's Device for Prostate Care: http://www.youtube.com/watch?v=V5xidswhxJM.
"Dr. Allen's Device provides effective BPH and chronic prostatitis treatment by improving blood circulation in and around the prostate gland," comments Dr. Simon Allen. "Users of Dr. Allen's therapeutic device achieve a sensational relief of lower urinary tract symptoms as this therapy combats prostate inflammation and growth."
For details, please visit Fine Treatment at http://finetreatment.com/bph-treatment-prostate-enlargement.
About Dr. Simon Allen and Fine Treatment:
Dr. Simon Allen, MD, PhD, Academician, member of the ATA, is a highly experienced medical professional. His specialty is in internal medicine. He has treated a wide range of chronic diseases, including patients after a heart attack, with kidneys problems, including kidney stones disease, prostate and spine conditions, as well as metabolic disorders.
Fine Treatment ensures international availability of Dr. Allen's Devices for chronic prostatitis and BPH treatment, coronary heart disease, dissolving kidney stones, as well as for upper and lower back pain treatment and sciatica relief.