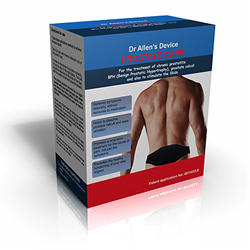 Dr. Allen's therapeutic device ultimately helps to cleanse the prostate from the unnecessary tissue reducing its enlarged size.
London, Great Britain (PRWEB) September 03, 2013
It is known that aspirin is able to increase the blood flow to the heart and brain; so it is often used to lower the risk of heart attack and stroke. A recent study has shown that aspirin and NSAIDs can also prevent or delay benign prostatic hyperplasia (BPH). However, wearing Dr. Allen's Device for BPH treatment is able to improve blood circulation at the capillary level over a pronged period of time, terminating and reversing prostate enlargement without any medication and associated side effects, states Fine Treatment.
Professor I. Aghajanyan discusses a natural treatment enabled by Dr. Allen's Devices in an interview given to Hraparak newspaper on July 30, 2013, noting: "Nowadays, the number of people wishing to be treated without medications and surgical interventions whenever possible is on the rise around the world. It's not surprising since medicines can cause side effects, and a surgery does not give one hundred percent guarantee of success." He also mentions that a clinical investigation is in progress, "At present several of our patients are already receiving treatment with Dr. Allen's Devices. We have already received early-stage positive feedback, and can say that these devices have a therapeutic effect."
According to the article, 'Benefit of aspirin for prostate health', of August 16, 2013, BPH is a condition in which the prostate becomes enlarged, leading to increased urinary frequency, waking in the night to urinate, and related symptoms. Mayo Clinic doctors report on a study of nearly 2,500 men which looked at the impact of aspirin and other non-steroidal anti-inflammatory drugs (NSAIDs) upon BPH. The findings suggest that taking the drugs – commonly prescribed for conditions like arthritis – had the beneficial side effect of reducing the risk of enlarged prostate by 50%.
However, aspirin and other medications cannot stop the prostate's growth. In contrast, an exclusive prostate treatment with Dr. Allen's therapeutic device enables the Thermobalancing therapy to improve the prostate condition by enhancing blood circulation locally. No medication can achieve the same effect.
Here you can watch a short informative video: http://www.youtube.com/watch?v=V5xidswhxJM where a man with a hugely enlarged prostate, weighting about 130 grams, has shrunk it to 30 grams by wearing Dr. Allen's Device for 2 years.
"The Thermobalancing therapy is a superior BPH treatment as it terminates and reverses prostate enlargement by increasing blood circulation in the affected prostate," comments Dr. Simon Allen. "Dr. Allen's therapeutic device ultimately helps to cleanse the prostate from the unnecessary tissue reducing its enlarged size."
For details, please visit Fine Treatment at http://finetreatment.com/bph-treatment-prostate-enlargement.
About Dr. Simon Allen and Fine Treatment:
Dr. Simon Allen, MD, PhD is a highly experienced medical professional. His specialty is in the internal medicine. He has treated a wide range of chronic diseases, including patients after a heart attack, with kidneys problems, including kidney stones disease, prostate and spine conditions, as well as metabolic disorders. Fine Treatment exclusively offers Dr Allen's devices for chronic prostatitis and BPH treatment, coronary heart disease, dissolving kidney stones, as well as back pain and sciatica relief.