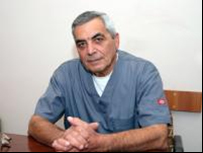 Dr. Allen's Devices help to terminate BPH and to dissolve kidney stones naturally, and avoid nasty side effects of pills and removal procedures.
London, GB (PRWEB) October 26, 2013
A new clinical trial has been initiated at the Mikaelyan Institute of Surgery in Yerevan in order to assess the broader benefits of Dr. Allen's therapeutic devices for sufferers with kidney stones and non-malignant prostate problems, reports Fine Treatment. The trial is overseen by Dr. Armen Enfenjyan, Deputy Director of Science. This development is equally praised by practitioners of conventional and alternative medicine. The Thermobalancing therapy enabled by Dr Allen's Devices is absolutely harmless, while conventional treatment options, such as medications or prostate and kidney stones removal procedures, are risky and may worsen patients' quality of life.
The Department of Urology at the Mikaelyan Institute of Surgery provides treatment for urolithiasis (kidney stones disease), congenital malformations and injuries of the urogenital system organs, oncourological diseases, purulent – inflammatory processes in the urogenital system, non-malignant hyperplasia of the prostate, urogenital pathology, male infertility and erectile dysfunctions. Such expertise makes this institution appropriate for the provision of a highly qualified assessment of treatments for common urological problems, such as BPH, chronic prostatitis, and kidney stones disease.
Prof. Ivan Aghajanyan, President and Founder of the Armenian Association of Urology (AAU) and Chief of the Department of Urology, says: "Dr. Allen' therapeutic device has already been given to 5 patients with kidney stones and to 36 men with prostate problems. I have reviewed 18 men after 3 months and should note that all of the patients are positive about Thermobalancing therapy, as symptomatic relief has come to some extent to all of them. However, we will check patients' condition in the following 3 months and provide a substantial report about their progress."
In contrast, many conventional treatments for urological problems, including medications, lithotripsy (ESWL) and surgeries, may worsen a man's quality of life by causing complications. Men's-Health Forum on Retrograde Ejaculation after Prostate Surgery sites many devastating experiences. For example, a post of 25 June 2011 says, "Do not get laser prostate surgery – if you still enjoy having sex, you will not afterwards – they don't tell you everything!"
This video: http://www.youtube.com/watch?v=V5xidswhxJM features a user whose hugely enlarged prostate of about 130 grams shrank to 30 grams as a result of him wearing Dr. Allen's Device for 2 years; he did not take any medications or supplements.
"The wellbeing of men and women can be impaired by common complications arising from long-term medications, kidney stones removal procedures and surgeries," comments Dr. Simon Allen. "Dr. Allen's Devices help to terminate BPH and to dissolve kidney stones naturally, and avoid nasty side effects of pills and removal procedures."
For more details, visit Fine Treatment at http://finetreatment.com/bph-treatment-prostate-enlargement.
About Dr. Simon Allen and Fine Treatment:
Dr. Simon Allen, MD, PhD, Academician, member of the ATA, is a highly experienced medical professional. His specialty is in the internal medicine. He has treated a wide range of chronic diseases, including patients after a heart attack, with kidneys problems, including kidney stones disease, prostate and spine conditions, as well as metabolic disorders. Fine Treatment exclusively offers Dr Allen's devices for chronic prostatitis and BPH treatment, coronary heart disease, dissolving kidney stones, as well as back pain and sciatica relief.