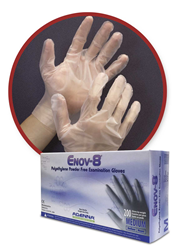 Ontario, CA (PRWEB) May 26, 2015
Adenna, Inc., worldwide supplier of high-quality, disposable hand protection since 1997, is excited to announce the launch of Enov8 (pronounced "innovate"), one of the first medical grade gloves made of polyethylene (PE) and approved by the U.S. FDA for patient care, diagnosis, examination and general applications.
The Enov8 glove might look like the PE gloves commonly used in making sandwiches or mixing salads but our proprietary formula and production technology brings to life a thicker, stronger and more stretchy glove that delivers added safety and protection. Enov8 is an ambidextrous, translucent, powder and latex free glove that eliminates potential rubber latex protein allergies and powder contamination. The glove is light, easy to don, comfortable on the hands and provides good tactile sensitivity.
"I wanted a name that was telling of Adenna's ongoing efforts to provide excellent quality and innovative products" stated Maxwell Lee, President and CEO of Adenna, Inc. "Enov8 seemed like the right fit for our newest line of exam grade gloves."
The Enov8 glove, typically used for lower risk examination and patient care, is priced competitively over vinyl exam gloves with a 15% - 20% cost savings.
Enov8 Gloves are ideal for service professionals in these fields:
>Home Care > Day Care
>Long Term Care > Food Preparation
>Nursing Homes > General Use Handling
Enov8 will be available for purchase later this month. To request a sample, email us at info(at)adenna(dot)com or visit http://www.adenna.com.
About Us:
Established in 1997, Adenna Inc markets and distributes a wide variety of hand protection and healthcare products around the world. Adenna ensures a rigid standard of excellence and affordability in all products to best serve the unique needs of customers across a variety of industries, including; automotive, beauty, dental, first responders, food service, industrial, laboratory, law enforcement, medical, safety, tattoo and body art, sanitary maintenance and veterinary care. Equally important is Adenna's dedication to "awesome" customer service experience.
The Corporate office and master distribution center is located in Ontario, California with other distribution centers in Atlanta, Georgia, and Elgin, Illinois. The sales and marketing teams are based in Irvine, California and work collaboratively to serve and support clients throughout the United States, Canada, Mexico, Central and South America, the Caribbean, United Kingdom, Europe and South Korea.
Adenna's major distributors include Cardinal Health, Henry Schein, Patterson Dental, Practicon, Kreisers, ANDA, HD Supply, Fastenal, Interstate Batteries, Basics Etc., US Foods, MBM Corporation, Kingpin Tattoo, Eikon Device, and many more.
Media Contact:
Chaeli Walker
Marketing Manager
Adenna, Inc.
Direct (909) 510-8982
Chaeli(dot)walker(at)adenna(dot)com