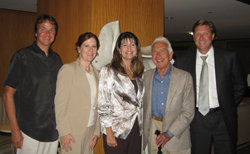 The articles are perfect tools to help leaders remain focused on leadership.
Merrimack, NH (PRWEB) June 11, 2014
What do Jack Welch, Mike Abrashoff, Doris Kearns Goodwin, Malcolm Gladwell, Marshall Goldsmith, John Kotter, Clay Christensen, and Terence Traut have in common? In addition to being experts in the field of leadership and management, they have all relied on Entelechy, Inc. to develop training to support their messages. And they – and others – are featured in a library of articles that Entelechy is making available to the public.
Since 1992, Entelechy has been the go-to "private label" provider of customized training for scores of clients including DIRECTV, MediaOne, KONE, Convergys, MasTec AT, Sprint, Wellpoint, Kawasaki Motors Manufacturing, and many others. In addition to these companies, Entelechy has worked with 60 leadership gurus creating training to support their presentations. "We provided a valuable service to these thought leaders," explains Senior Performance Consultant Sharon Fernandez, "but I think WE were the winners in this deal! We got to meet and work with people who are shaping leadership thinking throughout the world!"
The work spanned a full decade and, along the way, Entelechy formed lasting friendships with many of the thought leaders, friendships that continue to this day. "We were able to pick the brains of some of the most insightful gurus and create short articles that provide these insights to our clients," states Donna Iacopucci, Executive VP of Client Relations. Now Entelechy is making the entire library of leadership articles available to the public. The articles are short and succinct. "We know leaders don't have a lot of time," states Iacopucci, "and the articles make an impact quickly. They're perfect tools to help leaders remain focused on leadership."
The articles – and additional resources – are available at the Unleash Your Leadership Potential website at http://www.unleashyourleadership.com. Click on the Resources tab and select Whitepapers and Articles.