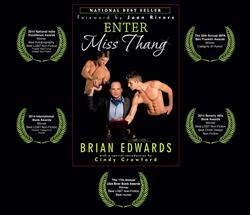 LOS ANGELES (PRWEB) January 12, 2015
Brian Edwards may be a celebrated talent executive, multi-award winning producer, writer and occasional performer, but to friends such as Cindy Crawford and Vanessa Williams, he is known quite simply as Miss Thang. The late, great Joan Rivers wrote the foreword and Crawford penned the introduction to his recent autobiography, "Enter Miss Thang," (published by Archway Publishing) which became a national best seller and ends the year as the most honored LGBT Non-Fiction Book of 2014.
"Enter Miss Thang" received top honors for Best Humor and Best Gay & Lesbian Non-Fiction at The USA Best Book Awards, (presented by USA Book News), which rounded out the current book awards season, where Edwards earned a total of ten national and international awards in various categories such as Humor, as well as dominating the field of LGBT Non-Fiction with wins at The International Book Awards, The Beverly Hills Book Awards and The National Indie Excellence Awards, where it was also named Best Autobiography of the Year.
CMA & Grammy Award winner Pam Tillis will be hosting a special reception in Nashville, Tennessee next month to celebrate Edwards and all of the honors the book has received.
In addition to collecting honors for his story, Edwards is using the book to help others. All royalties from sales of "Enter Miss Thang" are donated to God's Love We Deliver – a New York City-based 501c3 that delivers nutritious, individually-tailored meals to people who are too sick to shop or cook for themselves. Supported self-publishing leader Author Solutions recognized Edward through its Real Authors Real Impact campaign last March.
Contact Crystal Milner for information about media availability.
To purchase a print of e-book copy of "Enter Miss Thang," visit http://bookstore.archwaypublishing.com/Products/SKU-000672028/Enter-Miss-Thang.aspx.