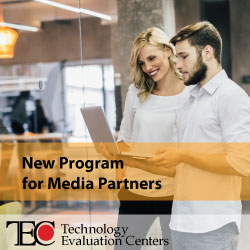 "TEC's co-branded evaluation centers are a tremendous opportunity for our media partners to give their audiences access to world-leading software evaluation tools that just aren't available anywhere else," Hanna Hakio, Head of TEC's Media Partners Program
Montreal, Quebec (PRWEB) April 15, 2016
Technology Evaluation Centers is pleased to announce its new media partners program. As the world's largest provider of online tools and services to help companies select the right enterprise software, TEC's free media partner program offers a comprehensive set of tools and resources to help companies select the right enterprise software to suit their needs. The program also offers a wealth of opportunities to organizations seeking to reach a large global audience of enterprise software buyers and decision makers.
TEC's media partner program includes a range of key elements to help participating organizations achieve their revenue generation, branding, and marketing goals, including:

Co-branded evaluation centers, which enable partners to give their audiences access to TEC's industry-leading suite of software evaluation tools and services. This includes TEC Advisor, TEC's patented enterprise software decision support system; TEC RFP templates and software comparison reports, which users can generate to directly compare leading software solutions across thousands of features and functions; and an extensive research library, with thousands of buyer's guides, market reports, case studies, and whitepapers.
Content exchange program, which includes cross-promotion of original content, newsletters, e-mail campaigns, social media posts, banner ads, and participation in and promotion of conferences, trade shows, live events, and webinars.
The program is designed to help TEC's partners raise their profile in an increasingly crowded, competitive, and noisy marketplace, as well as give their users access to professional enterprise software selection resources. TEC's media partner program also helps participating organizations increase their reach, increase their revenue, and brand awareness, as well as enhance their status as industry leaders.
Organizations within the enterprise software industry are constantly on the lookout for extended product offerings and cost-effective opportunities to reach new buyers and decision makers. TEC's media partner program helps satisfy that demand.
"TEC's co-branded evaluation centers are a tremendous opportunity for our media partners to give their audiences access to world-leading software evaluation and comparison tools that just aren't available anywhere else," says the head of TEC's media partners program, Hanna Hakio. "Our database contains detailed information on more than 1,000 vendors and solutions regarding over 25,000 different software criteria. That's unique in the industry."
The TEC website details the benefits of the program. Organizations can register for the program online or for more information, call +1 514-954-3665, ext. 242, or email media(at)technologyevaluation(dot)com.
About Technology Evaluation Centers (TEC)
Technology Evaluation Centers (TEC) is the world's leading provider of software selection resources, services, and research materials, helping organizations evaluate and select the best enterprise software for their needs. With its advanced decision-making process and software selection experts, TEC reduces the time, cost, and risk associated with enterprise software selection.
Over 3.5 million subscribers leverage TEC's extensive research and detailed information on more than 1,000 leading software solutions across all major application areas. TEC is recognized as an industry-leading software selection advisory firm offering resources and services both online and onsite. For more information, please visit http://www.technologyevaluation.com.