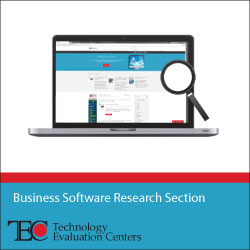 "The online research center gives business owners, IT professionals, and even students a great free resource to learn more about virtually any software initiative that interests them." -- Michael Thaw, TEC Director of Software Selection Services
Montreal, Quebec (PRWEB) April 29, 2016
Technology Evaluation Centers (TEC) is proud to announce the launch of its online Enterprise Software Research Center. This free resource is designed to help business managers and information technology (IT) professionals find current, independent information to help them more efficiently and effectively acquire, evaluate, and/or assess enterprise software systems.
Fully redesigned and expanded, the online resource makes it easy for users to find useful information for their current or planned enterprise software projects. Users have free access to research reports, including:

Buyer's Guides—cover each major software type including enterprise resource planning (ERP), customer relationship management (CRM), human capital management (HCM), business intelligence (BI), and accounting, and help companies make more informed decisions when acquiring a major software system.
White Papers—cover a wide range of software solutions and industries, and help companies understand how software solutions address common business challenges.
Case Studies—cover a wide range of software solutions and industries, and detail realized benefits and return on investment (ROI) of software solutions.
Software Reviews and Customer Satisfaction Surveys—cover independent, in-depth reviews of leading software solutions and customer satisfaction survey reports on software service providers.
Users can also find industry reports on trending technologies such as cloud computing, the Internet of Things (IoT), omnichannel retail, and mobile applications. Much of the material is produced by TEC's in-house research analyst team, and other experts in the field.
Michael Thaw, director of software selection services at TEC, explains, "The online research center is an easily searchable database with thousands of useful documents that will help companies no matter what their software initiative is. It gives business owners, IT professionals, and even students a great free resource to learn about virtually any type of business software that interests them."
To access TEC's online research center, please visit http://www.technologyevaluation.com/research.
For more information on TEC's online research center and research initiatives, call +1 514-954-3665, ext. 404, or complete the online form.
About Technology Evaluation Centers (TEC)
Technology Evaluation Centers (TEC) is the world's leading provider of software selection resources, services, and research materials, helping organizations evaluate and select the best enterprise software for their needs. With its advanced decision-making process and software selection experts, TEC reduces the time, cost, and risk associated with enterprise software selection.
Over 3.5 million subscribers leverage TEC's extensive research and detailed information on more than 1,000 leading software solutions across all major application areas. TEC is recognized as an industry-leading software selection advisory firm offering resources and services both online and onsite. For more information, please visit http://www.technologyevaluation.com.