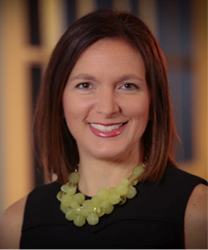 There is an often overlooked source of capital that can be used to grow a business that may be more powerful than debt or equity -- cash flow!
Atlanta, GA (PRWEB) December 17, 2015
Enterprising Women magazine has named Lara Hodgson, president and CEO of NOW Corp, among its 2016 Enterprising Women of the Year. The annual Enterprising Women of the Year Awards is widely considered one of the most prestigious recognition programs for women business owners. To win, nominees must demonstrate that they have fast-growth businesses, mentor or actively support other women and girls involved in entrepreneurship, and stand out as leaders in their communities.
In addition to her role at the helm of NOW Corp, which has been described by a Top 5 U.S. Bank executive as a "singularity in financial services that will change everything, like the first credit card," Hodgson also mentors a variety of young entrepreneurs, and serves on the board of directors of Access to Capital for Entrepreneurs (ACE). She is a founding member and president of the board of directors of Atlanta Heights Charter School, and has served as an appointee of the Governor to the board of the Georgia Regional Transportation Authority, and as an adjunct lecturer in finance at the Georgia Institute of Technology's Scheller College of Business.
"I am honored and humbled to be named among such an accomplished group of business and community leaders from around the world who join me in receiving this award," said Hodgson. "Everyday I feel fortunate to work with and to serve remarkable entrepreneurs and small business leaders, some of them Enterprising Women award winners, to help them accomplish their goals and realize their dreams NOW!"
NOW Corp, itself a WBENC-certified women-owned business, is committed to help bridge the access to capital gender gap by making $100 million available to women-owned businesses through its flagship offering NOWaccount, the payment solution that works for B2B. While the number of women-owned firms grew at 11⁄2 times the national average between 1997 and 2014, and revenue and employment growth among women-owned firms tops that of all other firms except the largest, publicly traded corporations, they continue to receive less than 5 percent of the total small business loan dollars and only 7 percent of venture capital, according to a recent report by the Senate Small Business & Entrepreneurship Committee.
"I believe strongly that there is an often overlooked source of capital that can be used to grow a business that may be more powerful than debt or equity," said Hodgson. "Cash flow from operations, the company's actual revenue."
With NOWaccount, small businesses can receive their revenue immediately in a way that is not a loan, is not factoring, feels like but costs less than accepting a credit card for payment, and is invisible to their business and government customers. The use of NOWaccount also strengthens the balance sheet, helping small businesses become better candidates for additional sources of capital such as loans and lines of credit.
As large corporate and government organizations strive to increase spending with women-owned businesses, NOWaccount provides individual small business suppliers access to up to $1 million of their own capital at any one time, or up to $8 million throughout the course of a year, enabling them to take advantage of these significant growth opportunities with their corporate and government customers.
"The recipients of the 2016 Enterprising Women of the Year Award represent an amazing group of women entrepreneurs from across the United States and as far away as China, Egypt, South Africa, Uganda, the United Kingdom, and Portugal," said Monica Smiley, Publisher/CEO of Enterprising Women. "We could not be more proud to recognize their accomplishments as CEOs of fast-growth companies, community leaders, and role models and mentors to other women and girls. We look forward to shining the spotlight on them at our 14th annual awards event in late February."
Fellow Class of 2016 Award Winners include:
Over $100 million in annual revenues

Pamela Evette, Quality Business Solutions, Inc., Travelers Rest, South Carolina • Nina Vaca, Pinnacle Group, Dallas, Texas • Ahu Serter, FARPLAS Holding, Sekerpinar Kocaeli, Turkey • Marti Hedge, Edge Solutions and Consulting Inc., Westlake Village, California • Kathy Feng, Suntex Sunyin USA Inc., Walnut, California
Over $25 million and up to $100 Million in annual revenues

Beverly A. Bailey, Stronghold Engineering, Inc., Riverside, California • Bonnie C. Carroll, Information International Associates, Oak Ridge, Tennessee • Kristi Alford, E2 Optics, Englewood, Colorado • Kristy Knichel, Knichel Logistics, Gibsonia, Pennsylvania • Regina Mellinger, Primary Services, Houston, Texas • Heather Sanderson, Overture Promotions, Vernon Hills, Illinois • Gina Stone, Semper Electric, Inc., Templeton, California • Margaret Marcucci, Coranet Corp, New York, New York • Diane Dupuis, The Dupuis Langen Group, Richmond, British Columbia, Canada • Patricia A. Miller, SpaceBound, Inc., LaGrange, Ohio • Mary Waring, Western Logistics Inc., Coquitlam, British Columbia, Canada • Tracy Doyle and Angela Fiordilino, Phoenix Marketing Solutions, Providence, New Jersey • Bonnie Spencer Swayze, Alliance Rubber Company, Hot Springs, Arkansas • Leslie Meingast, TPD, Vancouver, British Columbia, Canada • Leigh Ann Sayen, The Peterson Company, Kalamazoo, Michigan • Teresa Katubig, Extra Help, Inc., St. Louis, Missouri • Kate Lindsey, Alpha Corporation, Dulles, Virginia
Over $10 million and up to $25 Million in annual revenues

Carol Nance, Nance Industries Inc., Calhoun, Georgia • Pamela Kan, Bishop-Wisecarver, Pittsburg, California • Mila Golovine, MasterWord Services, Houston, Texas • Simona Faroni, G.S. Gelato, Fort Walton Beach, Florida • Millie Maddocks, Mac Medical Supply, Munster, Indiana • Jan Allen, PayTech, Greenwood Village, Colorado • Sally Hughes, Caster Connection, Columbus, Ohio • Cheryl Lubbert, Health Perspectives Group, Seattle, Washington • Staci L. Redmon, Strategy and Management Services, Inc., Springfield, Virginia • Adrianne Weissman, Evelyn & Arthur, Riviera Beach, Florida • Maureen Shea, Right Management Florida/Caribbean, Fort Lauderdale, Florida • Jill Frey, Cummins Facility Services, Prospect, Ohio • Anoosheh Oskouian, Ship & Shore Environmental Inc., Signal Hill, California • Audrey Taylor, netlogx, LLC, Indianapolis, Indiana • Karen Clark Cole, Blink UX, Seattle, Washington • Fran Dichner, Aries Group, Inc., Beverly, Massachusetts
Over $5 million and up to $10 Million in annual revenues

Christine Lantinen, Maud Borup Inc., Minneapolis, Minnesota • Maureen O'Connor, LEM Products Inc., Doylestown, Pennyslvania • Jennifer Arenson, Global Sourcing Connection, Riverwoods, Illinois • Lisa Firestone, Managed Care Advisors, Bethesda, Maryland • Neslihan Hidirligil, It's Always Christmas in New York, New York, New York • Susan Frech, Social Media Link, New York, New York • Lorri Fairchild, AIT Worldwide Logistics • Ana Fernandez-Parmet, Parmetech Inc., Havertown, Pennyslvania • Belinda Coleman, The Coleman Group Inc., Lanham, Maryland • Teresa Lawrence, Delta Personnel, Metairie, Louisiana • Marsha Murray, Murray Resources, Houston, Texas • Danielle Wilson, Aero Jet Medical, Georgetown, Texas • Sandra Isabel Correia, Novacortica, SA, Algarve, Portugal
Over $2 million and up to $5 million in annual revenues

Charlotte Kamugisha, Bunyonyi Safaris Ltd., Kampala, Uganda • Janice Jucker, Three Brothers Bakery, Houston, Texas • Sarah Endline, sweetriot, Brooklyn, New York • Melanie Hoggard, AR Fresh Mex, Inc., North Little Rock, Arkansas • Tamara Nall, The Leading Niche, New York, New York • Komal Goyal, 6e Technologies, Broomfield, Colorado • Tracy Craig, Craig Communications Inc., Oakland, California • Donnette Thomas, World Trade Autosports, Inc., Raleigh, North Carolina • Robin Franks, TGE Resources, Inc., Houston, Texas • Leslie Vickrey, ClearEdge Marketing, Chicago, Illinois • Deborah Stallings, HR Anew, Columbia, Maryland • Shanthi Rajaram, Amazech Solutions LLC, Frisco, Texas • A.J. Drexler, Campos Inc., Pittsburgh, Pennsylvania • Raja B. Marhaba, Martec Construction, Inc., Granada Hills, California • Connie Golleher, The Golleher Group, LLC, McLean, Virginia • Autumn Manning, YouEarnedIt, Austin, Texas • Jennifer Mwijukye, Unifreight Cargo Handling Ltd., Kampala, Uganda • Maribel Koella, NAI Knoxville, Knoxville, Tennessee • Rosemary Swierk, Direct Steel and Construction, Crystal Lake, Illinois • Julia Knight, Julia Knight Inc., Minneapolis, Minnesota • Sarah Sajedi, ERA Environmental Management Solutions, Bala Cynwyd, Pennsylvania
Over $1 million and up to $2 million in annual revenues

Teresa Knight, Women's Health Specialists of St Louis, St Louis, Missouri • Ghada Darwish, PIZA Industrial Supplies Co., Cairo, Egypt • Lisa A. Goodbee, PE Goodbee Associates, Centennial, Colorado • Andrea Herrera, Amazing Edibles Gourmet Catering, Chicago, Illinois • Eva Niewiadomski, Catalyst Ranch, Chicago, Illinois • Angelique Rewers, The Corporate Agent, Boca Raton, Florida • Lynn Sutton, Kairos Consulting Worldwide, Chicago, Illinois • Michelle Yeh, myLOHAS Limited, Shanghai, China • Stacey Stratton, True Talent Group, Edina, Minnesota • Marliyn Volpe, The Madison Consulting Group, New York, New York • Emma Davidson, Affinity Capital Limited, London, United Kingdom • Jennifer Kearney, Gotham Energy 360 LLC, New York, New York • Mary Frantz, Enterprise Knowledge Partners, Minneapolis, Minnesota • Patrina M. Clark, Pivotal Practices Consulting LLC, Greenbelt, Maryland • Almira Bardai & Lindsay Nahmiache, Jive Communications, Vancouver, British Columbia, Canada • Ferose Oaten, AVTS Roadworthy Stations, Cape Town, South Africa • Lasenta Lewis-Ellis, LLE Construction Group, LLC, Columbia, South Carolina • Marnie Ochs-Raleigh, Evolve Systems, St. Paul, Minnesota
Up to $1 million in annual revenues

Stephanie M. Scotti, Professionally Speaking Consulting, LLC, Chapel Hill, North Carolina • Joyce Ann Miller, Ph.D., KeyStone Research Corporation, Erie, Pennsylvania • Royalyn B. Reid, Consumer & Market Insights, Dallas, Texas • Katie Dolan Dix, Capannari Ice Cream, Mount Prospect, Illinois • Sophia Fouzia Leaguedi, Ameroc Export Inc., Glenview, Illinois • Rebecca Geller, The Geller Law Group, Fairfax, Virginia • Farrah Qureshi, Global Diversity Practice, Saltaire, United Kingdom • Patricia Maldonado, Nanay SRL, Bolivia, South America
Partner organizations represented on the Enterprising Women Advisory Board and supporting the 2016 event include:

The Women Presidents' Organization (WPO) • Women Impacting Public Policy (WIPP) • Women's Business Enterprise National Council (WBENC) • National Association of Women Business Owners (NAWBO) • National Women Business Owners Corporation (NWBOC) • Institute for Economic Empowerment of Women (IEEW) • The Global Initiative for Women's Entrepreneurship Research • Women's Business Development Center (WBDC) • Quantum Leaps • Springboard Enterprise • UnitedSucces • National Association of Women REO Brokerages (NAWRB) • Small Business & Entrepreneurship Council (SBEC)/Women Entrepreneurs Inc. (WE) • Women's Leadership Exchange • The International Alliance for Women (TIAW) • Asian Women in Business (AWIB) • eWomenNetwork (EWN) • Association of Women's Business Centers (AWBC)
About NOW Corp
NOW Corp is a certified women-owned business founded in 2010 to address the needs of small businesses seeking affordable and accessible means to fund growth, create jobs, and stimulate the U.S. economy. Recognizing a void in funding solutions in the $32 trillion trade credit sector, the founders leveraged their engineering and entrepreneurial backgrounds to create NOWaccount®, the payment solution that works for B2B™. NOWaccount is designed to empower small businesses across the U.S. to GROW FEARLESSLY!™ by leveraging capital from operations, rather than debt or equity, to confidently fund new and larger contracts with their commercial and government customers. For more information, visit http://www.nowcorp.com.