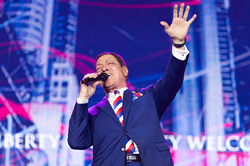 LYNCHBURG, Va. (PRWEB) April 12, 2019
Actor, performer, and radio show host Joe Piscopo visited Liberty University on Friday, taking the Convocation stage for an inspirational discussion and a lively musical performance. The Saturday Night Live alumnus gave the event a late-night spin, sharing his music and comedy with the crowd of over 10,000 students in the Vines Center.
As an entertainer, Piscopo has worked on stage and in film, with all the charisma and vocal chops of a swing-era crooner.
Piscopo also shared stories from his long career in the entertainment industry, including the time he met U.S. President Ronald Reagan in the White House and when he karate-chopped martial arts legend Chuck Norris on the set of "Sidekicks."
He entertained the crowd with a musical impersonations roulette game, during which he channeled rocker Bruce Springsteen to sing "Old McDonald." David Nasser, Liberty's senior vice president for spiritual development, got in on the fun, putting an R&B spin on "Twinkle, Twinkle Little Star."
Piscopo also brought his children on stage, performing a touching duet (Billy Ray Cyrus' "Butterfly Fly Away") with his daughter Olivia and rocking on the drums and guitar alongside his son Michael. Piscopo gave his signature impression, crashing to his knees as he belted the opening note from Frank Sinatra's "New York, New York."
Joined on stage by Falwell and Nasser, Piscopo talked about the importance of family and civility.
"It's all about family, man," Piscopo said. "That's what I love about the love and the spirit that I feel down here at Liberty University."
Falwell introduced award-winning writer, best-selling author, and political commentator Heather Mac Donald. She thanked Liberty for the warm welcome and attentive ears, which she said was counter to her experiences at other institutions where she has faced rude treatment, from inappropriate gestures to walkouts and blockades, before even getting a chance to speak.
Her rapid-fire message focused on the dangers of identity politics and victim culture. She noted examples from several universities, including Ivy League campuses, that exemplified a culture where professors are chided for exams that are "too fact based" and merit, even in scientific research, takes a back seat to an agenda.
"If we are going to restore sanity and civil harmony we are going to have to take on the victimology narrative directly and assert that for all of our historical flaws — and they were real — there has never been a more tolerant, opportunity filled polity than our current one," Mac Donald said.
She added that we can't sacrifice the preservation of knowledge or deny the accomplishments of history, even in light of the cultural problems past societies may have had.
"A university's highest calling is to convey the full glory of Western inheritance," she said, "to inspire students to get down on their knees in gratitude for that legacy rather than raising their fists in protest. And I know that gratitude is something that inspires Liberty University's students to their enormous credit and which sets you apart."
Lynchburg Mayor Treney Tweedy closed out the event by commissioning "Serve Lynchburg" a massive, two-day humanitarian blitz where approximately 2,000 Liberty students will tackle a number of service projects throughout the community.
About Liberty University
Liberty University, founded in 1971, is the world's premier Christian university, one of the largest private, nonprofit universities in the nation, and the largest university in Virginia. Located near the Blue Ridge Mountains on more than 7,000 acres in Lynchburg, Va., Liberty offers more than 600 unique programs of study from the certificate to the doctoral level. Over 300 programs are offered online. Utilizing its world-class infrastructure and Christian faculty, Liberty's mission is to train Champions for Christ with the values, knowledge, and skills essential for impacting tomorrow's world.