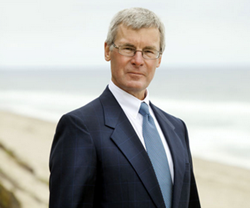 I view that as just one element of my firm's marketing program, a very important element of the marketing program.
Santa, Monica, Calif. (PRWEB) December 17, 2014
California entertainment attorney Jon Pfeiffer, who specializes in entertainment law, launched a monthly enewsletter December 2 that covers legal topics and offers lessons about practicing law.
The initial reaction has been positive, drawing a clickthrough rate of almost 50% following the Dec. 2 release. That's more than twice the industry average of 21.32% clickthroughs for the legal sector as measured by Constant Contact, the email marketing firm awarded the 2014 People's Choice for Favorite Customer Service.
He built his enewsletter subscription base of about 1,200 people from those he knows socially or professionally.
Unleaded Group in Denver designed both http://www.pfeifferlaw.com and the new enewsletter, which draws content from the website. "The idea was, it was to be consistent with the design they did for the website, to keep the consistent brand, which they did," Pfeiffer said. Unleaded designed the enewsletter to carry the last four or five blog posts from the website.
"It is to keep in touch," said Pfeiffer, owner of Pfeiffer Law in Santa Monica, Calif. "I view that as just one element of my firm's marketing program, a very important element of the marketing program. Even if I was on the phone all day long, you can't call people enough. But if you send out the monthly enewsletter, you're staying top of mind."
Unleaded's custom design of the enewsletter reflects Pfeiffer's website design aesthetic, a factor that increases the number of opens. Jarod Clark, president of Unleaded, said recognizable brands, in this case Pfeiffers, are more often opened than not. The custom design of Pfeiffer's website was applied to the enewsletter concept to support the brand. Recognition factor separates valuable emails from spam. "No one is immune to spam," Clark added. "So we're intent on visually separating emails recipients want from trash visually and in the message line."
Pfeiffer also is an adjunct professor at the Seaver College of Letters, Arts and Sciences at Pepperdine University in Malibu, Calif., teaching mass communication law. The course covers First Amendment issues plus defamation, advertising, obscenity, indecency, privacy and copyright.
The inaugural issue included four items. Pfeiffer's mass comm students wrote two articles discussing the legality of charging guests to attend a private Super Bowl party held at someone's home. The other two items were Pfeiffer videos, about 90 seconds each. In one, he talked about how to find a mentor in the legal field; the other covered what to tell mentees. They're two of 13 videos he's recording for a legal counselor series designed for young litigators.
To subscribe to Pfeiffer's enewsletter, send an email to Pfeiffer(at)Pfeifferlaw(dot)com and ask to be added to the email list.
Jon Pfeiffer is a battle tested trial attorney with more than 30 years courtroom experience. He has represented high profile clients like G. Gordon Liddy and members of the Happy Days cast. He is listed among "Super Lawyers" for entertainment law for 2012, 2013 and 2014. He was also named one of the top 100 entertainment lawyers in California for 2013 and 2014 by the American Society of Legal Advocates. His website is found at http://www.pfeifferlaw.com and his office is located at 233 Wilshire Blvd #220, Santa Monica, CA 90401
Unleaded Software Inc. is headquartered at 2314 Broadway, Denver, Colo. with a satellite office in Ahmedabad, India with 40 employees between the two offices. The company as designed and developed more than 600 websites and is among the top 15% of Magento website developers in the world. Called Unleaded Group, the company builds ecommerce and content managed websites, offers website hosting through its wholly-owned company BeanstalkSolarHosting.com plus content writing, SEO, marketing collateral development and more. Unleaded can be reached at http://www.unleadedsoftware.com.