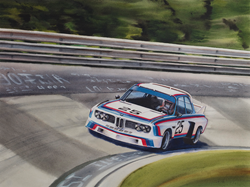 Aerodynamics are for people who can't build engines. – Enzo Ferrari
(PRWEB) June 12, 2014
Canyon Mile's enthusiast apparel (http://canyonmile.com) sale is a great place to find a unique gift for that special auto enthusiast in your life. This year, Father's Day falls on Sunday June 15th, so there is still plenty of time to get Dad that perfect gift.
Canyon Mile is a driving inspired automotive lifestyle company dedicated to designing products that encompass motorsport passion and style. Find premium enthusiast apparel (http://canyonmile.com) that is comfortable, fit great, and have unique automotive designs.
With Father's Day coming this weekend, people are finding is difficult to create the time to shop for dad. This also puts additional pressure on trying to figure out the best gift for Father's Day. Companies that provide simple and fast online solutions will win out this year.
Canyon Mile is the ideal solution for dad, featuring superb, high quality automotive apparel and accessories. They offer T-Shirts, Accessories, Art and even gift cards. Treating dad to a Ferrari Enzo Engine Blueprint T-Shirt, BMW M Colors T-Shirt or a Martini Racing Livery Print just may make his day.
About Canyon Mile
"Our goal is to provide a subtle, sophisticated, and fashionable way for auto enthusiasts to express their connection to automotive culture, both on and off the road."
– Keith Skowronski, owner
Stay tuned to hear about the new products that are currently in development. Plan to see new t-shirt designs, hats, and polo shirts.
Explore the world of Canyon Mile at (http://www.canyonmile.com).
For more information, contact info (at) canyonmile (dot) com.
Media Contact: info (at) canyonmile (dot) com
310.318.897