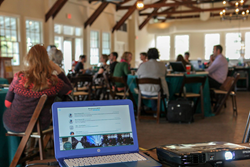 "This event symbolizes the full lifecycle of support for entrepreneurship in Mount Pleasant," said Mayor Linda Page.
MOUNT PLEASANT, SC (PRWEB) January 08, 2016
The Town of Mount Pleasant closed a record year of entrepreneurial success by hosting Coworking Day Mount Pleasant, December 9 at Alhambra Hall. Through an innovative public-private partnership, this inaugural event quickly became the region's largest coworking initiative, drawing nearly 250 entrepreneurs and donating over 500 pounds of food to the Lowcountry Foodbank.
A full day of festivities, digital nomads and tech enthusiasts enjoyed VĀGA.co's VĀGASPACE Popup Coworking program followed by DIG SOUTH's DIG Mashup mixer. Event highlights included a fireside chat with Bryan Ransom, Co-Founder of Moondog Animation Studios, and "hot seat" interview with Harris Nussbaum, CEO of Qonceptual – both local entrepreneurs.
"This event symbolizes the full lifecycle of support for entrepreneurship in Mount Pleasant," said Mayor Linda Page. "VĀGA.co started out down the hall, literally in Town Hall. Now, they're operating internationally. We expect to see the same from many in the room today, who leave inspired and full of ideas."
The true success story was the innovative public-private partnership. In hearing the event's purpose, local tech companies Bluetowne and Qonceptual joined forces to provide a free opportunity for entrepreneurs to share a unique workspace, boost productivity, inspire ideas, and spark collaboration, all while giving back to the community. Guests were encouraged to bring nonperishable food items in lieu of a ticket cost.
"This kind of collaborative effort is key to building a thriving business community and growing the digital economy," said DIG SOUTH CEO Stanfield Gray.
Additional programming included the Town's Mobile Office Hours, an opportunity for citizens to engage with the Town Administrator, and the launch of The Harbor Entrepreneur Center's Propel Program, an initiative designed to transform company founders into seasoned CEOs.
"We're committed to cultivating the mounting energy in our business community," stated Councilman Mark Smith, Economic Development Committee Chair. "Mount Pleasant is definitely 'open for business.'"
About the Town of Mount Pleasant
The Town of Mount Pleasant Office of Business Development's mission is to advance the Town's quality of life by fostering an economic environment that is vibrant, favorable to job creation, and promotes the general prosperity of the community.