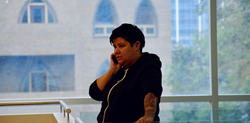 One of the most difficult things that I had to overcome was taking the back-burner on certain parts of my business. It made me feel like I was losing control.
(PRWEB) October 02, 2017
The current local economic state is less than ideal, yet Bobbie-Jo Racette who has been featured in Huffington, Financial Post, and CBC, has gone against the odds. After being laid off from the oil and gas industry in 2015, Bobbie began to execute her business idea, the Virtual Gurus. Fast forward to 2017, the Virtual Gurus is now one of Canada's largest and fastest growing virtual assistant companies, working with over 70 virtual assistants across North America and most recently, a finalist for the 2017 BDC Emerging Growth Award. Like most businesses (especially startups), the journey is far from traditional and it takes a level of perseverance, ambition, and caffeine intake to reach the growth that the Virtual Gurus has achieved. This is the story of how an entrepreneur, who against all odds has overcome the adversity of being stereotyped and the downturn of the local economy.
With Calgary's unemployment at all-time high due to the downturn of the oil and gas industry, Bobbie leveraged her experience to pursue a business opportunity. Being the founder of a company that has grown as fast as the Virtual Gurus is no easy feat, yet there was an important reality that Bobbie had to accept for her business to grow to where it is today. When starting a business, time allocation is one of the most troublesome decisions. Bobbie acknowledged, "One of the most difficult things that I had to overcome was taking the back-burner on certain parts of my business. It made me feel like I was losing control." Many business owners have a hard time not doing everything themselves early on. "I wasn't the business kind of person, and I wasn't able to realize that until the Virtual Gurus really took off." Some of the most successful people in the world focus on their strengths and hire, or partner up, with others to complement their weaknesses. No one has ever been great by focusing on their weaknesses. The core of the Virtual Gurus is allowing business owners to work ON their business rather than IN their business. Working in the business means tasks that sustain your business and keep the lights on, while working on the business means tasks that grow the business and take it to the next level.
The foundation of the Virtual Gurus' growth is from the premise of which the company offers its services. Getting emotionally attached to the things we invest our time in makes it difficult to trust someone to come in and take over the very foundation you started. Rather than consuming all your time working in your business, you can delegate responsibilities to others and better spend your time growing your business. By letting go of tasks that do not require your attention, you are ultimately taking your business and letting it become a self-sufficient operation.
Bobbie has inspired many, and will continue to, as it takes a tremendous amount of humility and self-awareness to get to where she has. We can all learn a thing or two about business from a person who claims to know nothing about business.
Learn more about Bobbie and the Virtual Gurus today.