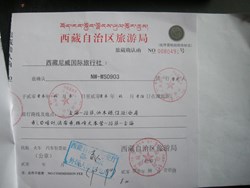 Contact local agent www.tibetctrip.com, Tibet travel permits in 2014, easy and no hassels!
(PRWEB) November 24, 2013
Travelers have begun planning their 2014 tours of Tibet and so far Tibet travel permits have been one of their top concerns. Foreign visitors in Tibet are required to obtain a Tibet travel permit for entry; a registered travel agency will apply for the permits and help travelers make it into Tibet without problems. Tibet Ctrip Travel Service-TCTS (http://www.tibetctrip.com) has been operating Tibet tours for over 10 years and explains the process for obtaining Tibet travel permits.

Upon booking a tour, travelers need to send TCTS a copy of their Chinese visa and passport, these items are required for the travel permit application. If the photo copies of passports and or China visas are unavailable at the time of booking, be sure that they are sent at least 18 days before the tour. Tibet travel agency TCTS highly suggest travelers to send passport photo copies earlier before handing it out to apply China visa in embassy.
Travelers can think of their permit as a kind of Tibet visa as it will be needed to board trains to Tibet or check into flights. If arriving from Mainland China travelers will need to provide TCTS an address for the permits to be mailed to, typically travel groups will have it mailed to a hotel in China. For those coming from Nepal the group's guide will meet them at the border or airport with permit. Permits cannot be mailed internationally.
Previously it was required that groups be comprised of five or more travelers. Fortunately smaller groups, even individuals, can now obtain permits. Please keep in mind that travel groups comprised of different nationalities cannot enter Tibet on the same permit. Also, certain individuals such as journalists, foreign diplomats and military members may need special permission to get a permit. TCTS will provide details while planning the tour.
While the details can seem overwhelming at first, obtaining a Tibet travel permit is an easy process. A travel group just needs to provide copies of their Chinese visas, passports, and an address where the permit can be mailed (if coming from Mainland China). It is important to remember that travel regulations may change at any time with no advanced notice; TCTS will help affected groups adjust their itineraries. The 2014 Tibet travel season will be here soon, travelers are encouraged to start planning now!
Devin Moore, a travel writer based in Denver, Colorado, publishes above news release for which he collected information from local Tibet travel service TCTS. Devin and his fellow American friends traveled to Tibet twice with TCTS and highly recommend this local agent to those dreaming to travel Tibet.