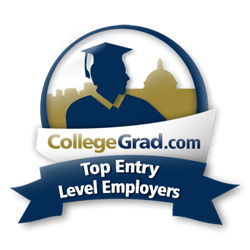 "Entry level hiring continues to increase beyond the record hiring numbers of recent years," said Brian Krueger, CEO of CollegeGrad.com.
Seattle, WA (PRWEB) April 06, 2016
As college graduation approaches for the Class of 2016, CollegeGrad.com, the #1 Entry Level Job Site, announces the Top Entry Level Employers for 2016. Entry level employers are projecting an overall increase in hiring of 2.3% in 2016. The Top Entry Level Employers list represents more than 125,000 entry level jobs for the Class of 2016 and is available online at https://CollegeGrad.com/topemployers. It details the 2016 entry level hiring plans for more than 400 employers and includes links to entry level and internship job postings for each employer.
"Entry level hiring continues to increase beyond the record hiring numbers of recent years," said Brian Krueger, CEO of CollegeGrad.com. "Entry level hiring tends to be highly cyclical. When the economy is up, entry level hiring is way up, as it has been the last two years."
The CollegeGrad.com survey results name Enterprise Rent-A-Car as the #1 Entry Level Employer. With 8,900 projected entry level hires for 2016, Enterprise Rent-A-Car is predicting an overall increase in their 2016 entry level hiring. "Our promote-from-within culture is a driving force behind our need to recruit so many innovative, college-educated individuals each year to feed our growth," said Marie Artim, Vice President of Talent Acquisition at Enterprise Holdings. "This year we anticipate hiring nearly 9,000 college graduates into our Management Training program, representing a 5 percent increase in our hiring over last year. We also will hire 2,000 interns into our Management Internship program - which helps to feed that pipeline for future leaders."
In addition to Enterprise Rent-A-Car, CollegeGrad.com details the hiring plans for more than 400 top entry level employers. The list includes many Top Entry Level Employers from previous years, such as insurance companies Liberty Mutual and Cigna, tech giants Amazon, HP and EMC, and accounting firms EY and KPMG.
Many large national firms, like KPMG, continue to see entry level hiring increases. "Our continued growth has fueled an over 40% increase in our entry level opportunities for campus hires," commented Becky Sproul, National Managing Partner of University Relations and Recruiting for KPMG. "This growth, combined with our culture where people believe their careers have purpose, create exciting opportunities for our new hires."
Colleges both large and small are seeing the increased competition pushing entry level hiring earlier each year. "Our tech job fair this past fall was the largest fair ever held on our campus," said Scott Greenhalgh, Director, Employer Relations & Alumni Career Services at BYU University Career Services. "While this follows an increasing trend since 2009, it's important to note that our employers are doing the bulk of their hiring in the fall, especially those seeking qualified tech students. Students who wait until spring to pursue entry level jobs or summer internships are scrambling to find a place for professional opportunities."
The competition for entry level talent is heating up on campus, so employers are doing more to attract top talent. "In addition to an increase in recruitment activities, many organizations are increasing their activity in other very intentional ways," said Dr. Gail Rooney, Director, The Career Center at University of Illinois at Urbana-Champaign. "Not only are employers attending career fairs and hosting on-campus interviews, they also are serving on panels, co-hosting professional development workshops, and attending networking development programs designed for students from targeted and specific populations including military-connected, underrepresented, and disabled students."
The increase in entry level hiring is seen as evidence of the broad-based recovery of the economy. "What I find most striking about the hiring trends this year is we're seeing an increase in hiring from multiple employment sectors, from financial and business services to leisure/tourism, government and technology, said Wesley Thorne, Director of the UCLA Career Center. "This is a welcome trend as we continue to see a slow but gradual rebound in the economy."
Entry level job opportunities not only open the door to the world of work after college, they can often provide a long-term path for dedicated new employees. "We look for future potential in new grads and are committed to providing them with challenging and rewarding careers. In fact, many of our senior leaders came to Burns & McDonnell straight out of college – including our CEO," says Renee Gartelos, human resources director at Burns & McDonnell. "When we hire a new grad, they are treated as an owner of the firm, because they are one. Burns & McDonnell is celebrating its 30th anniversary of becoming employee-owned this year. It's a model and recruitment tool that contributes to a turnover rate well below the national average – and a retirement package that is well above the median of employees who only have a 401K."
While the Top Entry Level Employers list includes many brand name companies, it also includes lesser known employers that are actively hiring at the entry level, such as Sundt Construction. "We have seen a steady increase in our entry level hiring over the past few years," said Michael Morales, University Relations at Sundt Construction. "As we continue to build our pipeline for targeted succession planning, hiring the best entry level talent is the foundation to our success."
So what does it take to get hired at the entry level? Focus on getting internships early in your college career. "Carahsoft has fueled our incredible growth by hiring innovative, forward-thinking new college grads," said Kathy Kelly, VP of Recruiting at Carahsoft. "In 2015 and 2016, we're experiencing the best recruiting landscape in the past 10 years as candidates are now beginning their employment search many months before graduation and are bringing multiple internship experiences with them."
Many of the largest employers with huge talent needs continue to expand their hiring, yet that doesn't mean that it's easy to get hired at the entry level.
Krueger reminds college students that although the 2016 entry level job outlook is favorable, time is of the essence to be successful. "Many entry level jobs have already been filled. Don't wait until graduation to start your job search. CollegeGrad.com is a great place to start and finish finding your entry level job or internship."
About CollegeGrad.com
CollegeGrad.com is the #1 entry level job site on the Internet and is the leader in the field of entry level job search since 1995. Brian Krueger is CEO and Founder of CollegeGrad.com, author of the best-selling book for entry level job search, College Grad Job Hunter and former VP Global Talent Acquisition for Amazon.com.
###
CONTACT INFO: Dan Hanisko, CollegeGrad.com, Dan(dot)Hanisko(at)CollegeGrad(dot)com or contact online