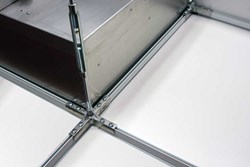 We are pleased to continue providing our customers with additional products that complement our line and their needs. The MAC-T Grid System is economical, while solving the connection needs for the MAC 10 FFU line
Sanford, NC (PRWEB) August 20, 2013
Envirco®, Innovators in Clean Air Technology and manufacturers of a complete line of clean air systems for many industries requiring ultra-clean environments for critical technologies, is proud to introduce the latest innovation in cleanroom air quality. Envirco today announced their new MAC-T Ceiling Grid System, a 2" Gasket Seal Grid Cleanroom Ceiling System. This product is fabricated using superior materials to provide both a structural grid system and zinc alloy die-castings.
The building block of a cleanroom ceiling grid system is the connection and suspension system. Envirco offers a true, extruded aluminum 2'' cleanroom ceiling system. It is the most cost efficient system for cleanroom classes from ISO 8 (Class 100,000) to ISO 5 (Class 10), or any full HEPA coverage application.
Envirco's rod suspended cleanroom ceiling systems share attributes that in combination, create a common design platform. The Envirco MAC-T Ceiling Grid System is designed to be an economical, easily installed, and sturdy system that will provide you with a structurally sound ceiling system for Envirco's MAC 10 Fan Filter Units. Customizing this system to meet specific needs is easy and worry-free.
Features include:

24 ½ x 48 ½ on center design supporting 20 pounds per square foot load
Standard 23.63 by 47.63 Fan Filter Units will fit the grid allowing you not to order special sized filters.
The grid come with a closed cell white gasket installed to insure proper sealing on Fan filter unit allow you to maintain positive pressure
Painted white polyester finish, making it more durable than powder coating
3/8" thread rod and turnbuckle or 3/8" eye bolt and 12 ga. Ceiling wire
Main T lengths up to 20 feet
Supplied with a complete one year warranty
For connection and suspension at any point, Envirco's gasket seal grid ceiling system allows you the versatile option of using ¼-20 threaded eye bolts and hanging it from a unistrut. It also has lightweight multi-purpose connectors that join the grid members, providing a suspension point from grid wire-hung eye bolts.
Cleanrooms in Microelectronics, Medical Device, Semiconductor, Laboratory, Pharmaceutical and Nanotechnology markets are just a sampling of the installations using the T-Grid systems to alleviate the suspension challenges of fan filter units. Many place their trust in Envirco air cleaning products for long-term performance and service - they know that Envirco has a proven track record of providing engineered designs to meet the specific demands of challenging applications.
"We are pleased to continue providing our customers with additional products that complement our line and their needs. The MAC-T Grid System is economical, while solving the connection needs for the MAC 10 FFU line," says Les Goldsmith, National Sales Manager of Envirco.
More information about the T-Grid and Clean air applications can be found at Envirco Products or contact Envirco at info(at)envirco(dot)com.
About Trion Indoor Air Quality
Envirco is one of three brands of the Trion Indoor Air Quality (Trion IAQ) group that is owned by Air System Components, Inc. (ASC). ASC is a market-leading supplier of heating, air conditioning, and ventilation system components for commercial and residential applications. Envirco is a division of Air System Components, Inc. (ASC). ASC is a subsidiary of Air Distribution Technologies, Inc. For more information about Envirco air distribution solutions, visit http://www.envirco.com .