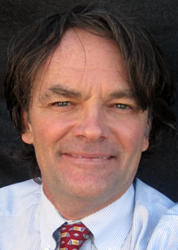 Arlington, VA (PRWEB) March 05, 2014
ENVIRON, an international environmental, health, safety and sustainability consultancy, announced today that Dr. Daniel Tormey has joined the firm as a Principal in the Los Angeles office.
Dr. Tormey is an internationally recognized expert on the upstream oil and gas sector, particularly hydraulic fracturing. He has led landmark studies of the environmental impacts of hydraulic fracturing and water injection. A geologist, geochemist and engineer, he has 25 years of experience as an environmental consultant.
"Dan is a great addition to the ENVIRON team. His outstanding technical skills and broad experience further strengthen ENVIRON's global oil and gas, energy, water resources, mining and NEPA/impact assessment services," said Stephen Washburn, ENVIRON Chief Executive Officer. "Dan's commitment to applying the best science and providing the highest level of consulting assistance is ideally aligned with ENVIRON's goal of helping clients resolve their most challenging environmental and human health issues."
Dr. Tormey's work in the oil and gas arena also includes produced water management; oil field assessment, remediation and restoration; environmental reviews related to acquisition or divestiture of oil and gas producing facilities and infrastructure; environmental impact assessment of oil and gas facilities, including oil fields, pipelines, onshore and offshore terminals, and refineries; evaluation of past, current and potential beneficial reuse of drilling muds and produced water; and management of offshore oil and gas projects. He has served as a technical expert in state and federal court, including providing testimony on matters related to water supply, contaminant assessment, fate and transport, and remediation. He has worked on projects throughout the world, including the US, Australia, Indonesia, Italy, Ecuador, Chile, Colombia, Venezuela, Brazil, Senegal, South Africa, Armenia and the Republic of Georgia.
"The oil and gas industry is rapidly changing, creating numerous opportunities and challenges," said Dr. Tormey. "The use of advanced and emerging technologies is greatly enhancing the development of new oil and gas production areas, but with increasing scrutiny by regulatory agencies and a concerned public. At the end of the day, sound science and engineering are the most reliable guides for moving forward in a way that supports economic development and meets growing energy needs while protecting human health and the environment. I look forward to working with the world-class experts at ENVIRON to help our clients do just that."
Dr. Tormey has a PhD in geology and geochemistry from the Massachusetts Institute of Technology (MIT) and a BS in civil engineering and geology from Stanford University. He is a California Professional Geologist.
Editor's Note: When referring to ENVIRON, use all capital letters, which is the firm's registered trade name.
About ENVIRON: An international consultancy, ENVIRON works with clients to help resolve their most demanding environmental and human health issues. Clients around the world benefit from our unique ability to bring clarity to issues at the intersection of science, business and policy. The firm's interdisciplinary network of more than 1,000 consultants operates from more than 90 offices in 21 countries.
Website: http://www.environcorp.com