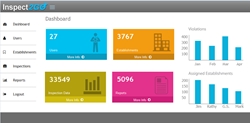 The dashboard provides management info at a glance
Orange County, CA (PRWEB) August 11, 2015
Inspect2go advances its environmental health management software with new tools. A custom dashboard provides key information at a glance, tailored to the unique needs of each inspector and supervisor. Inspections, schedules, fees and permits are managed through a web-based portal. Inspections can be performed without a connection, offline, using native mobile apps on iPad, Surface Pro or Android tablets. The full environmental health software suite encompasses key management functions for public health departments, restaurants and industry. For demonstrations contact Inspect2go (http://www.inspect2go.com/ehs/environmental-health-management-software).
Environmental Health Management Software

Complete EH/EHS inspection and management systems
Customized to an organization's unique environmental health requirements
Inspection, data, scheduling, accounting and permit management software modules
Customers

Environmental Health Departments
Public Health Agencies
Contract food services (food safety and HACCP)
Hospitality – Restaurants (self-audits)
Government – Local/state regulatory agencies
Industry – Manufacturing, safety and quality assurance
Environmental Health Programs

Retail Food Establishment – (FDA 2009, FDA 2013 or local code compliance)
Temporary Food Service
Consumer Health
Childcare/Playground/School
Wastewater/Sewer/Septic
Others (Pool, Shellfish, HazMat, Pest)
Client Specific/Custom
Software Capabilities

Dashboard - Custom Dashboard tailored to each supervisor and inspector
Permitting - Permitting and Licensing Software – Issue and track permits
Database – Inspections, permits, establishments on a single SQL database
Hosting
o Hosted on customer's Microsoft SQL Server
o Inspect2go cloud hosting

Scheduling - Inspection and audit scheduling
Web-Based
o Custom web-based interface

Mobile App
Offline – Functions anywhere without data or wifi connectivity
Apps - Inspections and Audits performed via native mobile apps
Tablets – Microsoft (Surface Pro), Apple iOS (iPad/iPhone) and Android tablet applications
Secure - Encrypted data
Accounting – Invoicing and fee tracking
Manage - Manage inspectors, facilities, audits, inspections, schedules and violations
Reporting Software

Custom formatted reports
Ad hoc reporting
Corrective action tracking
Display KPI/Key Performance Indicators
Search and sort by violation, location, history, date, inspection and inspector
Charting, graphing and analytics
State reporting
Daily, monthly and annual summary reports
Microsoft Integration and Development

SQL Server Reporting Services (SSRS)
Crystal Reports
Data migration from prior inspection databases
SharePoint and Dynamics CRM
Custom .Net/ASP.NET development and programming
About Inspect2go
Inspect2Go (http://www.inspect2go.com/ehs) offers state-of-the-art inspection management software that combines mobile, cloud and database technology. Inspect offline and manage online with software designed by inspectors, for inspectors. Inspections are conducted on a native mobile app that's easy to use and functions everywhere, offline, without the need for data connectivity. iPad, Android tablet and Windows (Surface Pro) mobile applications are available. The Microsoft SQL database software enables scheduling, ad-hoc reporting, financial, permitting and management function.