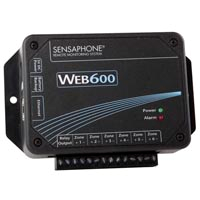 Aston, PA (PRWEB) March 28, 2014
Interop—Sensaphone® today announced that it will showcase an expanded remote monitoring solutions portfolio at the leading independent technology conference and expo–Interop, March 31-April 4, 2014 in Las Vegas, NV at Booth 2459.
Highlighted at Interop will be the Web600 for low cost environmental monitoring. The Web600 can use temperature sensors, contact closures, or transducers to provide continuous monitoring and reporting. With six universal inputs, the Sensaphone Web600 can be configured to watch the most critical conditions in a small computer room.
With the Web600, current status, programming, and previous history can all be access quickly and conveniently through a web page. If any conditions deviate from normal, the Web600 will immediately send e-mail alarms, text messages, and even SNMP traps. The device offers simple web based programming and the reporting includes data logging.
"Our Web600 offers a real value in environmental monitoring for data centers," explained Bob Douglass, Vice President, Marketing and Corporate Development. "More importantly it provides alerts and notifications that will allow you to keep your data fully operational. We are proud to offer this advanced technology along with our full portfolio of remote environmental monitoring solutions to the IT."
For data centers requiring an expanded array of environmental monitoring, Sensaphone will showcase its IMS series including the IMS-1000 and the IMS-4000. The IMS-series provides monitoring for a full range of environmental conditions and combines environmental monitoring, physical security and data logging into a single system.
The IMS-1000 is similar to the Web600 web-based monitoring solution, but it provides the functionality required by larger enterprise data center facilities. The IMS-1000 monitors up to eight sensors and has the option of a phone line connection in addition to the Ethernet computer network connection.
For wide area enterprise requirements, Sensaphone offers the IMS-4000 which includes both Ethernet and phone line connections. Designed for monitoring multiple locations, the IMS-4000 is made up of one Host and up to 31 Nodes that can be spread out over a large area. Each Host or Node can monitor up to eight sensors, and the group of Hosts and Nodes can be managed from one common interface. The Nodes can be in a different room, building or geographic location.
Sensaphone will also demonstrate its Sensaphone WSG30, a web-based temperature monitoring solution with up to 30 wireless sensors and internal battery backup. The WGS30 is Sensaphone's newest wireless sensor gateway for web-based monitoring. As a standalone system, it can monitor a variety of data center environmental conditions such as humidity, power failure, and water on floor from the wireless sensors and directly notify the appropriate personnel by sending e-mails, text messages and SNMP traps. The WSG30 can also be used within an existing data center automation system and communicate directly with existing HMI software.
"We are committed to providing industry-leading and cost-effective remote environmental monitoring solutions across for data centers of all sizes," noted Douglass. "Our full suite of environmental monitoring solutions offers IT customers of the best set of features and functionality that will fit any need or budget."
Availability
Over 350,000 Sensaphone systems are in use today around the world with superior customer satisfaction. Contact Sensaphone for the right solution and for pricing: Call us toll free at 877-373-2700 or email us at sales(at)sensaphone(dot)com.
About Sensaphone
Sensaphone® offers a comprehensive line of feature-rich and flexible remote monitoring products that enable customers to safeguard their property, and manage and report critical environmental data. Sensaphone products provide actionable monitoring information to customers in telecommunications, oil and gas, water and wastewater, HVAC and refrigeration, agriculture, greenhouses, science and health labs, network data centers and homes. Sensaphone stands at the forefront of remote monitor and control solution design, setting industry standards for advancements in technology while helping protect our customers' assets and infrastructure. Visit Sensaphone at http://www.sensaphone.com.