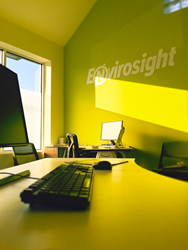 Establishing a physical presence in Portland is a strategic decision based on the company-wide commitment to better serve our West Coast sales partners and customers.
Portland, OR (PRWEB) October 12, 2015
Envirosight opened a new office in Portland, OR on September 15th, 2015. The 1,200 square feet office space is located on Northeast Killingsworth Street, and will primarily house the environmental inspection technology company's Marketing and Public Relations Department. The space has a quintessential startup vibe— an open working area, functional yet professional, complete with the brand's logo and "Envirosight Green" color permeating the space.
"Establishing a physical presence in Portland, OR is a strategic decision based on the company-wide commitment to better serve our West Coast sales partners and customers," said Jake Wells, Director of Marketing at Envirosight. "With our marketing division based out of Portland, we can capitalize on regional opportunities and give ourselves the latitude to serve our current and prospective customers more effectively. We chose Portland not only for central proximity to the major market areas we serve on the West Coast, but also because we wanted to be in a city that is at the forefront of sustainability and green technologies− which is well aligned with Envirosight's commitment to environmental stewardship."
Along with recently signing two new sales partners to its West Coast sales channel, Envirosight Western Regional Sales Manager Chris Helliwell operates out of nearby Bend, Oregon. As part of a company whose customer philosophy emphasizes regional support and service, Envirosight's new facility dovetails with market coverage that includes 23 regionally exclusive North American sales partners, strategically placed regional sales managers, and entrenched subsidiaries in Asia, Latin America and Europe.
"One of our goals in 2016 and into the future is to expand our marketing efforts to better support our sales partners and their customers," said Venay Sehgal Bhatia, Envirosight's Digital Marketing Manager. "Our team has some very exciting projects that include updating our web presence, increasing our marketing communications, and building communications and content that will help professionals in our industry understand how technology, regulations and best practices are evolving. This office space will be integral in helping us better collaborate and execute our marketing and communications projects."
About Envirosight LLC
Randolph, New Jersey-based Envirosight, LLC provides video pipeline inspection solutions to municipalities, contractors, departments of transportation, and civil/environmental engineers. Envirosight is committed to ongoing innovation, delivering products that enhance user productivity and inspection detail. Envirosight serves customers through a trained network of regional sales partners who deliver localized support and expertise with rapid turnaround. All Envirosight technical employees hold NASSCO PACP certification. Visit Envirosight online at http://www.envirosight.com.