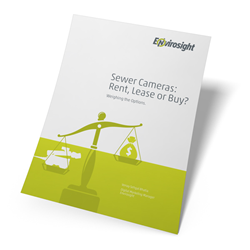 The decision to rent, lease, or buy a sewer can heavily impact an organization's bottom line, peace of mind, and future growth
Randolph, New Jersey (PRWEB) October 12, 2016
Deciding whether to rent, lease or buy a sewer camera is rarely simple. The decision requires a close look at one's business model, access to capital, and the technological needs of the business. In a new white paper, Envirosight compares the merits of renting, leasing and buying sewer inspection equipment.
"The decision to rent, lease, or buy a sewer can heavily impact an organization's bottom line, peace of mind, and future growth," says Venay Sehgal Bhatia, Envirosight's Digital Marketing Manager and the author of the paper. "We wanted to create a resource so that decision makers can be fully informed of the relative advantages of each method." This paper reveals the benefits associated with each acquisition method, and will guide decision makers toward the method best suited to their particular needs.
This white paper is published as a part of Envirosight's ongoing commitment to create and share reference material that benefits industry professionals. To download a complimentary copy of the white paper, visit http://inbound.envirosight.com/sewer_camera_rent_lease_buy.
About Envirosight LLC
Randolph, New Jersey-based Envirosight, LLC provides video pipeline inspection solutions to municipalities, contractors, departments of transportation, and civil/environmental engineers. Envirosight is committed to ongoing innovation, delivering products that enhance user productivity and inspection detail. Envirosight serves customers through a trained network of regional sales partners who deliver localized support and expertise with rapid turnaround. All Envirosight technical employees hold NASSCO PACP certification. Visit Envirosight online at http://www.envirosight.com.