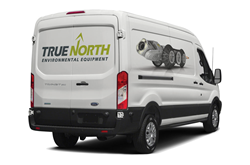 With their regional expertise, True North is in a great position to address the unique challenges of the Pacific Northwest and provide end-users with a comprehensive solution tailored to their needs
Randolph, New Jersey (PRWEB) December 23, 2015
Envirosight is pleased to announce True North Environmental Equipment has been appointed as the exclusive sales partner for Envirosight equipment in Oregon, Washington and Alaska effective December 7th, 2015. This partnership will give True North the exclusive rights to sell Envirosight's sewer inspection technology throughout the Pacific Northwest region.
"True North stood out to us—they are relentlessly committed to customer service and support," said Mike Vislay, Director of Sales. "Each region presents its own challenges when it comes to sewer infrastructure. With their regional expertise, True North is in a great position to address the unique challenges of the Pacific Northwest and provide end-users with a comprehensive solution tailored to their needs." True North Environmental Equipment is a division of Vimar Equipment, Ltd. and has two well-established offices in Hillsboro, OR and Marysville, WA.
True North is well known in the region as a distributor of emergency equipment. "This partnership will initiate our focus on serving the environmental market," said Todd Hystad, General Manager of True North. "We will utilize our industry relationships and established presence to promptly penetrate the market with Envirosight's innovative, high-caliber inspection technology. The training and support from Envirosight has been phenomenal in bringing us up to speed; we are eager to seamlessly begin supporting users of Envirosight's equipment in the region." For more information visit http://www.truenorthenviro.com and http://www.envirosight.com.
About Envirosight LLC
Randolph, New Jersey-based Envirosight, LLC provides video pipeline inspection solutions to municipalities, contractors, departments of transportation, and civil/environmental engineers. Envirosight is committed to ongoing innovation, delivering products that enhance user productivity and inspection detail. Envirosight serves customers through a trained network of regional sales partners who deliver localized support and expertise with rapid turnaround. All Envirosight technical employees hold NASSCO PACP certification. Visit Envirosight online at http://www.envirosight.com