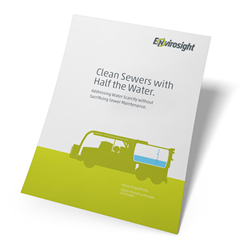 Water conservation doesn't have to mean choosing between saving water or saving your sewer system
Randolph, New Jersey (PRWEB) November 02, 2015
With dwindling water supplies, municipalities must look for creative ways to reduce water consumption without sacrificing sewer maintenance. Envirosight has published a white paper that explores how to conserve water without scaling back their sewer cleaning. The workflow introduced in the paper will not only help municipalities save water, but also build a more effective and efficient cleaning strategy.
This paper reveals that up to 35% of sewer lines are jetted unnecessarily, and still more water is wasted with poor nozzle selection. Why? Most cleaning crews have no way to determine in advance whether a pipe actually needs cleaning. And even when cleaning is warranted, choosing the right nozzle is seldom more than a guessing game.
"Water conservation doesn't have to mean choosing between saving water or saving your sewer system," says Venay Sehgal Bhatia, Digital Marketing Manager at Envirosight. "It can mean taking steps to use water smartly by introducing something missing from many sewer cleaning workflows— visual information."
The white paper can be found by visiting http://www.envirosight.com/conservewater.